'GMA' lunch break: Jack's Wife Freda green shakshuka recipe
Try this Tunisian brunch favorite!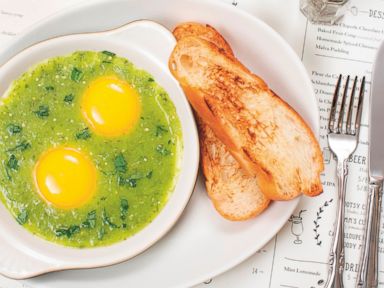 From the kitchen of Jack's Wife Freda chef Julia Jaksic
"GMA" caught up with chef Julia Jaksic for lunch at Jack's Wife Freda in New York City. Jaksic, also the restaurant's co-founder and a consultant on many other well-known restaurants in New York, shared the wildly popular brunch recipe for green shakshuka.
Watch the "GMA" Lunch Break live stream on ABCNews.com/live and the GMA Facebook page every Monday at 12:30 p.m. ET.
Ingredients
1 large Spanish onion
6 garlic cloves
2 tablespoons olive oil 1 1/2 teaspoons kosher salt
1 1/2 pounds tomatillos
1 green bell pepper
1 jalapeno chili
1/2 cup packed fresh cilantro leaves
1 teaspoon ground coriander
1 teaspoon ground cumin
1 to 3 tablespoons Hot Sauce *if you like it spicy
1 to 2 eggs per person
Chopped fresh parsley, for garnish
Toasted challah or French brioche, for serving
Cooking Directions
Preheat the oven to 300 degrees.
Peel and quarter the onion and place with the garlic cloves in a small baking dish. Drizzle with the olive oil and half teaspoon of the salt. Cover with aluminum foil and bake for 30 minutes, or until very soft when pierced with a knife. (The onion and garlic can be prepared ahead of time.)
In a large bowl, soak the tomatillos in warm water to peel off the outer husk, then cut in half. Cut the stem from the bell pepper, discard the seeds, and cut into quarters. Also cut the stem from the jalapeno, discard the seeds, and quarter.
Place the peeled tomatillos, bell pepper, jalapeno, and cilantro leaves in a food processor with the roasted onion and garlic. Process until very smooth; it will have a salsa-like consistency.
Transfer to a medium saucepan. Add the coriander, cumin, and remaining one teaspoon salt. Bring to a simmer over medium-high heat and cook for two to three minutes, or until the tomatillo sauce is heated through. Be careful not to cook too long or your sauce will discolor and the taste will change. Add one tablespoon of hot sauce at a time until you've hit your desired spice level.
To assemble the shakshuka:
Oil a cast-iron pan and set it over low heat. Crack the desired number of eggs into the pan and cover. Allow the eggs to cook sunny-side up until the whites are fully cooked but the yolks remain soft (you can of course cook the yolks through if that is your preference).
Once the eggs are cooked, liberally spoon the shakshuka sauce on top of the eggs and garnish with chopped parsley.
Serve with toasted challah or French brioche.
Reprinted with courtesy from JACK'S WIFE FREDA: Cooking from New York's West Village by Maya and Dean Jankelowitz. Recipes by Julia Jaksic. Published by Blue Rider Press, an imprint of Penguin Publishing Group, a division of Penguin Random House LLC.
Recipe Summary
Main Ingredients: cilantro, eggs, garlic
Course: Brunch, Main Course