Pie of Emeril's Eye Contest Winner: Jalene's "Mary & Ethel" Custard Caramel Pie
Recipe Courtesy Jalene Lyon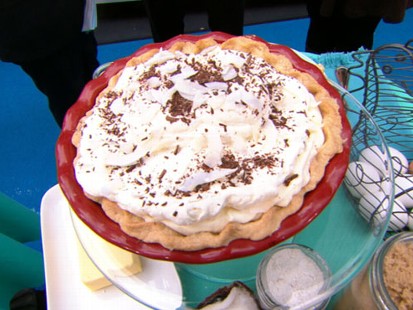 America chose its favorite pie recipe in chef's "Pie in Emeril's Eye" contest.
From the kitchen of Jalene Lyon
Jalene Lyon was crowned the big winner of "Good Morning America's" Pie of Emeril's Eye contest.
From Jalene Lyon: This recipe is special because it comes from my grandmother Mary and her sister Ethel. They ran a truck stop during the Great Depression in a place they called "Little Chicago." The sisters became so famous for their pies that my grandfather, who drove a MAC Truck, made it a point to get routed through their location every job he could. He loved my grandmother's pie (and apparently my grandmother) that eventually he just couldn't get enough and he married her! The pies remain a tradition in my family today. Both my sister and I bake them often. While my grandmother and her sister had many family pie favorites, the Caramel Pie is the one that made them most famous in our families.
Ingredients
For the caramel custard pie filling:
2C Fresh Light Brown sugar
2T Flour (well rounded)
2 eggs, 2C Half/Half or Whole Milk.
Pie Crust:
14T lard or butter
2T milk,
6T hot water
2C flour
Cooking Directions
Mix wet ingredients until well blended. Mix dry ingredients until well blended. Combine the wet ingredients into the dry ingredients. Prick bottom of pie crust and add filling and bake on the bottom rack of oven at 450 for 10 minutes. Reduce heat to 325 and cook for 40 minutes. Cool pie until it reaches room temperature. Place in refrigerator until cold. Garnish with sugared whipped cream (whipping cream and 1/2C powdered sugar) place
Whipped topping on top of pie and have fun with garnish!
We like shaved coconut and chocolate.
This recipe was styled by chef Karen Pickus for Good Morning America.
Recipe Summary
Main Ingredients: butter, light brown sugar, flour, water, milk