Pan-Fried Chicken and Ancho Chili Salsa With Pita and Yogurt
Spice Up Your Dinner Routine With This Great Recipe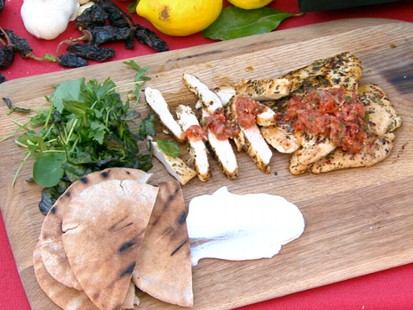 Host of "Jamie Oliver's Food Revolution" makes his pan-fried chicken with salsa.
From the kitchen of Jamie Oliver
Tired of the same old chicken recipes? Try this zesty new recipe for a fresh take on a dinner staple. The natural yogurt with warm pita bread seal the deal!
Ingredients
For the Chicken:
2 free-range or organic, skinless chicken breasts
2 sprigs of fresh rosemary, leaves picked & chopped
Zest of 1 lemon
Extra virgin olive oil
Sea salt
Freshly ground black pepper, to taste
For the Salsa:
Dried Chipotle chilies soaked in boiling water
Handful of fresh tomatoes
Small bunch of fresh coriander
4 spring onions
1/2 clove of garlic
1 lime or lemon
Salt & Pepper
Extra virgin olive oil
For the Pitas and Yogurt:
Pitas and/or flatbreads
Natural Yogurt
Lemons
Large bunch of mint, small leaves picked
Cooking Directions
Season your chicken breast with sea salt & freshly ground black pepper, the zest of 1 lemon and the chopped rosemary. Cover with cling film and bash until the breasts are 1cm thick. Rub the chicken with olive oil then cook in a screaming hot frying pan, cooking for a few minutes on each side or until cooked through and golden.
For your salsa: In a food processor, mix all your ingredients together, blitz and serve with your chicken.
To serve, slice the chicken breasts in to strips and serve on the toasted pitas/ flat breads, with the salsa, some natural yoghurt and some picked mint leaves.
This recipe was styled by chef Karen Pickus for Good Morning America.
**Recipe courtesy of Jamie Oliver
Recipe Summary
Main Ingredients: chicken, chipotle chilies, salsa, pita bread, yogurt, lemon, mint, rosemary
Course: Dinner, Lunch