Jason Roberts' Potted Mac and Cheese
Personal Mac and Cheese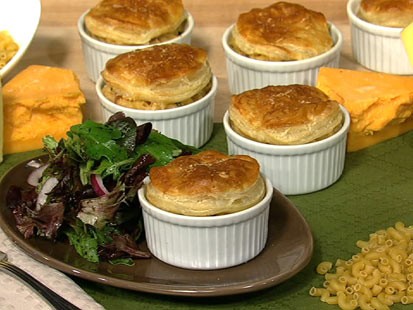 From the kitchen of Jason Roberts
Ingredients
3 Cups milk
1 small onion, peeled and stuck with 6 cloves
1 bay leaf
2 Tbsp butter
2 Tbsp plain flour, sifted
salt
freshly ground white pepper
freshly ground nutmeg
2 Tbsp tomato paste
1/2 Lb macaroni elbows, cooked
2 slices bacon, diced and lightly fried
1 Tsp chopped fresh rosemary
1/2 Lb fresh ricotta
2 Tbsp grated parmesan cheese
egg wash (1 egg beaten with 1/4 cup)
1 sheet puff pastry
Cooking Directions
Bring the milk, onion and bay leaf slowly to the boil, set aside to infuse for a moment.
Over a gentle heat melt the butter. Add the flour, stirring thoroughly with a wooden spoon.
Cook for approximately 3 minutes stirring constantly then remove from heat and set aside.
Remove the onion from the milk and retain. Whisk all the hot milk over the roux then continue stirring until the sauce boils and thickens. Return the onion to the sauce.
Season with salt, white pepper and nutmeg and cover the surface with parchment or baking paper then simmer VERY slowly for 20 -25 minutes.
Remove onion, and add in tomato paste, whisk till thoroughly incorporated, allow to cool
Meanwhile take your individual pie dishes and invert over rolled puff pastry, cutting a lid for each potted pie,
Mix gently the chopped rosemary, bacon and pasta through the cooled sauce, crumble over the fresh ricotta and fold through gently.
Take your individual pots and fill almost to the top, then scatter with a little parmesan cheese.
Secure each piece of puff pastry to a potted pie with a little egg wash. Egg wash the top of each pie topping.
Place into a pre heated oven of 200'C/430'F for around 12- 15 minutes, or until well risen and golden
Serve with a little side salad.
Recipe courtesy The Chew.
Recipe Summary
Main Ingredients: ricotta, milk, onion, bacon
Course: Snack
More Info: Kid Friendly