Jean-Georges' French Toast with Roasted Apples
The Ultimate French Toast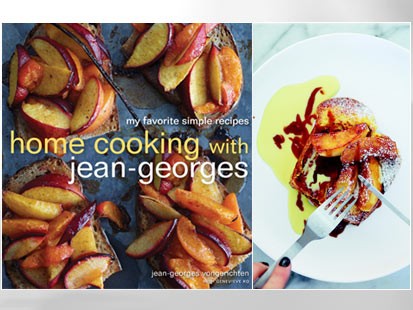 From the kitchen of Jean-Georges Vongerichten
This is the ultimate French toast. It's more like dessert, with the crème anglaise and caramel, but one well worth having in the morning. To achieve the perfect balance between crisp outside and custard center, you must completely soak the bread.
Ingredients
2/3 cup whole milk
2/3 cup heavy cream
½ cup sugar
1 large egg
1 large egg yolk
1/3 vanilla bean, split lengthwise and seeds scraped, pod reserved for another use
4 (1-inch-thick) slices brioche, preferably day-old
3 tablespoons unsalted butter, plus more for the pan
2 Golden Delicious apples, peeled, cored, and cut into eighths
Creme Anglaise, optional
Caramel Sauce, optional
Confectioners' sugar
Cooking Directions
Whisk together the milk, cream, sugar, egg, yolk, and vanilla bean seeds until the sugar dissolves. Arrange the brioche slices in a single layer in a shallow baking dish. Pour the milk-egg mixture over the bread, submerging the bread. Cover with plastic wrap and refrigerate
until the bread is completely soaked and almost too soft to handle, at least 1 hour and up to overnight.
When you're almost ready to serve, preheat the oven to 400°F. Generously butter a small rimmed baking sheet. Arrange the apples in a single layer. Dot the apples with 1 tablespoon of the butter. Roast until golden brown and tender, about 10 minutes.
Meanwhile, melt the remaining 2 tablespoons butter in a large ovenproof nonstick skillet over medium-low heat. When the butter foams, use both hands to very carefully transfer the soaked brioche slices to the pan. Cook until golden brown, about 5 minutes, then carefully flip. Transfer to the oven and bake alongside the apples until golden brown and puffed, about 5 minutes.
Serve the French toast with the apples and the crème anglaise and caramel, if desired. Dust with confectioners'sugar
Reprinted from Home Cooking with Jean-Georges by Jean-Georges Vongerichten. Copyright © 2011. Published by Clarkson Potter, a division of Random House, Inc.
Recipe Summary
Main Ingredients: whole milk, cream, sugar, egg, apple
Course: Brunch, Breakfast, Dessert
More Info: Kid Friendly