'GMA' lunch break: Vandal chef Jonathan Kavourakis' jerk spiced salmon
Try this flavorful salmon and quinoa dish!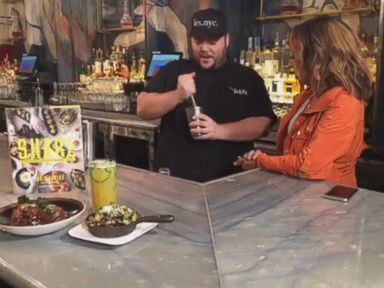 ABC News' Mara Schiavocampo and Vandal chef Jonathan Kavourakis cook dishes from Vandal's menu on the "GMA" Lunch Break live stream.
From the kitchen of Vandal chef Jonathan Kavourakis
"Good Morning America" caught up with Vandal executive chef Jonathan Kavourakis for lunch at the New York City restaurant. Try this popular dish from Vandal's menu.
Watch the "GMA" Lunch Break live stream on ABCNews.com/live and the GMA Facebook page every Monday, Wednesday and Friday at 12:30 p.m. ET.
Ingredients
3 each, 2 oz salmon portions
1 tablespoon Jerk Spice (ingredients below)
1 tablespoon Blended Oil
1 1/2 cup Red Quinoa
1/4 cup Mustard Green Chiffonade
2 teaspoons Lime Juice
2 tablespoons Salmon Glaze
Fried Mustard Greens
Puffed Amaranth
Jerk Spice Rub
1 1/2 cups Onion Powder
1 1/2 cups Garlic Powder
1 cup Ginger
1 cup Thyme
1 cup Black Pepper
1/2 cup Cinnamon
1 cup Allspice
1 cup Smoked Paprika
1/2 cup Nutmeg
2 cup Brown Sugar
1 cup Cayenne
1 1/2 cup Cumin
1 1/2 cup Salt
YIELD 3 3/4 quarts
Red Quinoa
12 quarts Red Quinoa
12 tablespoons Chopped Ginger
12 tablespoons Chopped Garlic
6 quarts Chopped White Onion
6 quarts Chopped Red Pepper
1/2 cup Blended Oil
4 quarts White Wine
1 can Coconut Milk (10 ounce can)
5 quarts Vegetable Stock
2 cup Salt
YIELD 22 quarts
Salmon Glaze
2 Kilo Blood Orange Puree
6 Whole Orange Habanero or Scotch Bonnet Chilies
4 oz Ginger
1 3/4 cups sugar
Salt to taste
Potato Starch
Puffed Amaranth
2 cups Amaranth Grain
1 tablespoon Jerk Spice
Cooking Directions
For the jerk spice rub:
Combine all ingredients, pass through a fine holed china cap.
For the red quinoa:
Heat the oil over high heat in a large rondo cooking pot.
Sauté garlic and ginger until toasted.
Add the chopped onion and red pepper, sauté until onions are translucent.
Add the quinoa and toast, stirring constantly for three minutes.
Add the beer, and cook until evaporated.
Add the coconut milk and vegetable stock.
Bring to a boil, reduce heat, cover and cook until quinoa is al dente.
Season with salt to taste.
For the salmon glaze:
Steep the chilies and ginger in the blood orange puree over low heat for 20 minutes. Wisk in the sugar and salt to taste. Make a slurry with the potato starch and whisk in until a glaze like consistency is reached. Strain through a chiniouss.
For the puffed amaranth:
Fry amaranth in a 400-degree fryer for about 10 seconds. Transfer to a butcher paper lined sheet tray then transfer to a second butcher lined sheet stray to remove as much oil as possible. Once dry, put into a mixing bowl, add the jerk spice and toss well.
For the fried mustard greens:
Remove the stems from the mustard greens and chiffonade. Fry in a 400-degree fryer until crispy but still bright green. Transfer to a butcher paper lined sheet tray to drain.
For the salmon:
Heat the blended oil in a sauté pan over high heat.
Roll the salmon in the jerk spice so that every side is covered.
Sear on all sides and finish cooking in 500-degree oven until desired temp.
In another sauté pan over high heat, heat oil and add the raw mustard greens, wilt with lime juice and add the quinoa. Add 1 tablespoon of the salmon glaze and season with salt to taste.
To plate, mound the quinoa in the center of a black bowl, place the three salmon pieces along side one another drizzle glaze on top. Top with fried mustard green and puffed amaranth. Finish with a circular drizzle of the glaze around the bowl.
Recipe courtesy Vandal.
Recipe Summary
Main Ingredients: salmon, red quinoa, jerk spice, paprika cumin, cayenne
Course: Main Course