Jesse Schenker's Beef Carpaccio Canape
A Light Starter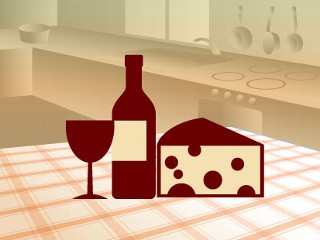 From the kitchen of Jesse Schenker
|
Ingredients
8 oz beef tenderloin
1 ball fresh burratta cheese
1/4 cup extra virgin olive oil
2 tbs. red wine vinegar (or beer vinegar optional)
1 tsp. chopped basil
1/4 lb. micro watercress
1 tsp. chopped parsley
4 large vine ripe tomatoes
1 tsp. granulated sugar
1/4 cup sherry vinegar
pinch red chili flake
salt to taste
Cooking Directions
For beef-
Take beef and roll in plastic wrap to form log. Tie of each end as tight as possible. Place in refrigerator.
For cheese-
Take cheese out of plastic, let drip in colander to remove any excess liquid. Put into bowl. Add 2 tbs olive oil, basil, parsley, salt and pepper to taste. Mix thoroughly.
For tomato jam:
Take tomatoes and rough cut into small pieces, removing stem. (Optional: You may remove skin). Take medium sauce pot- put on medium-high heat on stove. Add 2 tbs. olive oil. Add tomatoes to pan. Stir on medium- high heat for 4 to 5 minutes, stirring constantly, until tomatoes start to break down a bit. Add salt and sugar, continue to stir. Lower heat to low and let cook slowly, stirring occassionally for 1 hour. Once you see that most of the liquid has been evaporated, add sherry vinegar and stir. Turn heat off and let cool.
For Vinaigrette:
Take remainder of olive oil and red wine vinegar (or beer vinegar, optional), pinch of salt, in bowl. Wisk. Put aside.
For Assembly:
Take the beef out of the refrigerator. With sharp knife, cut paper thin round of tenderloin, put on cutting board. Take plastic wrap and open up 6" by 6" sheet plastic, lay on your counter. Place beef rounds inside center of plastic. With teaspoon, place in a small dollop of cheese mixture in center of beef. The balls can be as big or as small as you would like. You can use one piece of beef for a small ball or you can take three or four slices of beef, gently overlapping in a fan motion on plastic to form a larger ball. Once cheese is on beef on plastic, carefully grab all 4 points of the plastic wrap pulling upwards together, forming a twist motion, squeezing the plastic together tightly creating a ball at the bottom. Twist tightly to remove all bubbles, ensuring that the ball is tight. Tie a knot in plastic. Place in fridge. The balls need to sit for 1 hour in the refrigerator prior to serving.
When ready to serve, remove beef carpaccios from plastic wrap, place on plate. Put a little bit of vinaigrette on top of beef, season to taste. Add small teaspoon of tomato jam on top. Dress with watercress.
Other Recipes That You Might Like