Jesse Schenker's Sherry-Vinegar Chicken
A Healthy Recipe With a Gourmet Touch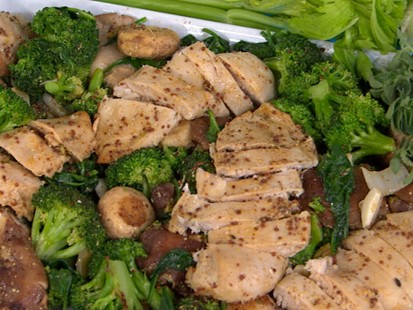 Owner of NYC's Recette restaurant also prepares his chopped winter vegetable salad.
From the kitchen of Jesse Schenker
Try this tasty and healthy recipe from chef Jesse Schenker.
Ingredients
8 ounces boneless, skinless chicken breast
1 tablespoons grain mustard
4 tablespoons Sherry vinegar
1 jalapeno, sliced in half and deseeded
1 clove garlic, smashed
1 tablespoon extra virgin olive oil
3 sprigs of fresh thyme
For the vegetables
1 cup button mushrooms, cleaned (or any mushroom variety of your choice)
2 cups cleaned spinach leaves
1 cup celery, peeled and diced
1 small head broccoli, cut down florets to bite size pieces
1 teaspoon grain mustard
2 teaspoons Sherry vinegar
1 clove garlic, smashed
1 tablespoon extra virgin olive oil
Salt to taste
Cooking Directions
Combine mustard, vinegar, jalapeno, garlic and olive oil in a bowl. Mix and pour over chicken breast and marinate in refrigerator for 4-6 hours or overnight. Place chicken in broiler at 375 degrees for 10 minutes until cooked through. Let rest.
Heat large pan, over medium heat. Place smashed garlic clove in pan and sizzle to infuse within oil. Add broccoli and mushrooms and cook 2-3 minutes until tender. Add celery and spinach. Season with salt, mustard and vinegar. The vinegar, mustard and juice from vegetable will create a sauce. Toss for one minute. Spoon all vegetable onto plate, leaving juice in the pan.
Slice chicken over vegetables. Add leftover juice from chicken to pan and reduce for 1-2 minutes on the stove. Pour sauce around vegetables on plate.
Recipe courtesy Jesse Schenker.
This recipe was styled by chef Karen Pickus for Good Morning America.
Recipe Summary
Main Ingredients: chicken, mustard, garlic, jalapeno, olive oil
Course: Dinner