Jessica Alba's Roasted Brussels Sprouts
Create These Tasty Veggies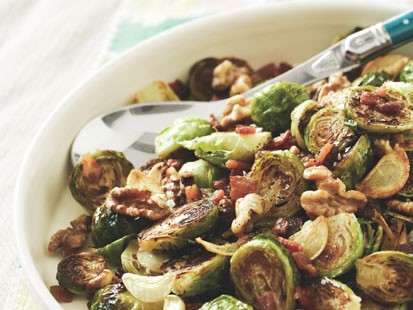 From the kitchen of Jessica Alba
WHEN IN DOUBT, ROAST IT
If you're looking at that long list of veggies and wondering how on earth you'd ever find time to cook them all--let alone persuade your family to eat them--I have one word for you: roasting.
I honestly don't know why anyone would even boil a vegetable again once they discover how great any produce becomes when you cut it up, sprinkle it with olive oil and salt, and stick it in the oven. Suddenly, Brussels sprouts taste better than potato chips!
Ingredients
Brussels sprouts
Olive oil
Salt
Cooking Directions
WHAT TO DO:
1. Preheat your oven to 400°F.
2. Spread cut-up vegetables in a thin layer on a rimmed baking sheet; toss with olive oil, sea salt, and any other herbs or spices of your choice. (I love garlic and lemon; fresh rosemary, thyme, or crushed red pepper are also fantastic.)
3. Roast until everything is nice and crispy (probably 20 to 40 minutes, depending on the quantity and type of vegetable), stirring the vegetables every 10 minutes so they don't stick to the pan. Serve!
Recipe Summary
Main Ingredients: brussels sprouts, olive oil, salt
Course: Side Dish