Bobby Flay's Jicama Radish Salad with Grapefruit-Ginger Vinaigrette
A Light Summer Salad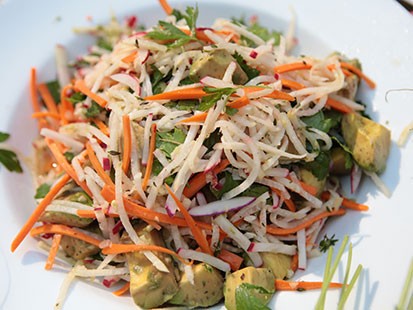 From the kitchen of Bobby Flay
Jicama and radish have similar textures, crisp and refreshing, two words that are in turn a perfect way to sum up this light salad. Whereas jicama has a mild sweetness, radish is sharp and peppery, and the two play beautifully off each other. Spicy, fruity fresh ginger adds warmth to the sweet-sour-bitter grapefruit and, of course, honey mellows both in this bright vinaigrette, which coats the crunch in flavor.
Ingredients
1/2 cup pink grapefruit juice
1 tablespoon clover honey, or more if needed
2 tablespoons rice vinegar
2 teaspoons finely grated fresh ginger
1 teaspoon finely chopped fresh thyme
Kosher salt and freshly ground black pepper
1/2 cup canola oil
1 ripe Hass avocado, peeled, pitted, and diced
1/2 small jicama, peeled and cut into julienne
1 carrot, cut into julienne
4 large radishes, cut into julienne
1/4 cup fresh flat-leaf parsley leaves
Cooking Directions
Put the grapefruit juice in a small nonreactive saucepan and boil over high heat until reduced to about 1/4 cup. Transfer to a bowl, add the honey, and let cool slightly. Whisk in the rice vinegar, ginger, and thyme and season with salt and pepper. Slowly whisk in the oil until emulsified.
Combine the avocado, jicama, carrot, and radishes in a large bowl. Add the grapefruit vinaigrette and toss to coat; season with salt and pepper. Cover and refrigerate for at least 1 hour and up to 8 hours. Add the parsley just before serving.
Recipe courtesy Bobby Flay's Barbecue Addiction, published by Clarkson Potter.
See Bobby Flay live at the NYC Wine and Food Festival this October. Click here to learn more.
This recipe was styled by chef Karen Pickus for Good Morning America.
Recipe Summary
Main Ingredients: jicama, radishes, carrott, grapefruit juice, honey, canola oil, avocado
Course: Side Dish, Salad