Jonathan Waxman's Braised Lamb Shanks
A Delicious Passover Dish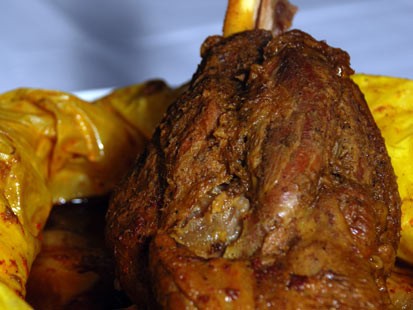 From the kitchen of Jonathan Waxman
For more recipes from Rosa Mexicano and Jonathan Waxman, check out their site.
Ingredients
For the mixiote salsa:
4oz. Guajillochiles
2oz. pasillanegrochiles
2oz. white onion
1.25oz. garlic, peeled
1 teaspoon cumin seed
1 tsp dried oregano
1/2 tsp cloves
1/2 tsp allspice
1/4 tsp cinnamon
2oz. agave nectar
12oz. water
For the cumin and turmeric rub:
2 Tbsp. Ground cumin
2 Tbsp. Ground turmeric
For the mixiotes:
8 sheets Parchment paper
4 pieces of banana leaf, cut about 8 inches square
4 lamb shanks
Salt and pepper as needed
Cumin and turmeric rub
Blended oil as needed
12 dates
12 cippolini onions
3 tangerines
24 oz. mixiote salsa
Cooking Directions
For the mixiote salsa: Wipe and clean all the chiles. Open them and discard the stems, seeds and veins. Toast them in the oven at 350 degrees for about 2 or 3 minutes, or until the chiles are a tobacco color but not burned. Soak the chiles in plenty of warm water for about 20 minutes.
Roast the onion and the garlic. Heat the spices in a pan to release the oils for about 2 minutes. Blend all of the ingredients together in a blender to achieve a textured puree.
For the cumin and tumeric rub: Mix the two together well.
For the mixiotes: Season the lamb shanks well with salt and pepper.
Heat oil in a pan and sear the lamb shanks well on all sides. When cool enough to handle, rub the lamb shanks with the cumin and turmeric rub. Wet the parchment sheets with warm water to make more pliable. Lay out two sheets of paper on top of each other.
Place the banana leaf in the center of the parchment paper. In each package, put 3 dates, 3 onions and 3 quarters of tangerine. Place the lamb shank on top of the banana leaf, with the bone standing straight up.
Ladle 6oz. of the mixiote salsa on top of and around each shank. Pull up the ends of the paper around the shank bone and tie with string. Place aluminum foil around each package to protect the paper from breaking. Place the 4 packages into a perforated pan.
Set the perforated pan over a pan of water. Cover well with either aluminum foil or a tight fitting lid. Bring to a boil over high heat and then turn down to a simmer. Let simmer for about 2 hours or until the shanks are tender. Remove from the steamer and untie each package. Roll down the sides of each package to create a "bowl". Place each package into a bowl and serve.
Recipe courtesy Jonathan Waxman.
Recipe Summary
Main Ingredients: cumin, tequila, water, cloves, allspice, cinnamon, lamb shanks
Course: Dinner