Josh Capon's BBQ Brisket Sliders
The Most Amazing Sandwich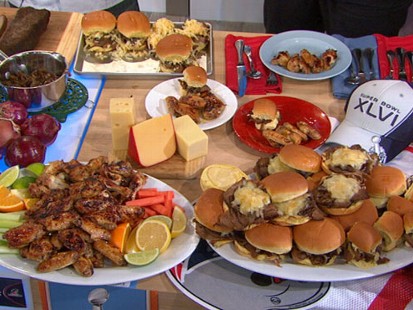 Chef Josh Capon and Dwight Freeney make the perfect Super Bowl snacks.
From the kitchen of Josh Capon
These sandwiches are a a Super Bowl party favorite.
Ingredients
1 4 to 5 pound beef brisket, trimmed
1/2 cup packed brown sugar
3 tablespoons Worcestershire Sauce
4 cloves garlic, minced
2 tablespoon chili powder
2 tablespoon ground black pepper
1 tablespoon yellow mustard
1 teaspoon salt
1 teaspoon cumin
1/4 teaspoon nutmeg
For the caramelized onions:
4 large red onions, julienned
1/2 cup extra virgin olive oil
salt and pepper
For the dijonaise:
1 cup mayonnaise
1 cup dijon mustard
2 TBSP red wine vinegar
Cooking Directions
For the brisket:
Combine everything but the brisket in a bowl. Mix well. Rub over the surface of the brisket and wrap tightly in aluminum foil. Refrigerate overnight. Preheat oven to 300 degrees F. Place brisket in a roasting pan on a roasting rack and poke a couple of holes in the foil on the top. Cook for 4 hours. Remove from foil and let sit for about 10 minutes before carving and serving.
For the caramelized onions:
In a large saute pan, cook red onions down with the olive oil on a med heat for aboyt 20 minutes till melted and golden brown. Season with salt and pepper and set aside.
For the dijonaise:
Mix together in a mixing bowl.
Assembly:
On lightly toasted potato rolls or ciabatta bread, spread some of the dijonaise, top with the shaved brisket, onions and cheese. Place in a 350 degree oven till the cheese melts. Serve while hot.
Recipe courtesy Josh Capon.
This recipe was styled by chef Karen Pickus for Good Morning America.
For more information on Dwight's charity, go to http://www.gridirongirls4africa.com/.
Recipe Summary
Main Ingredients: olive oil, brisket, brown sugar, red onions, red wine vinegar, mustard
Course: Party Platter