Julia Child's Salade Nicoise
Recipe Courtesy of 'The Way We Cook' By Julia Child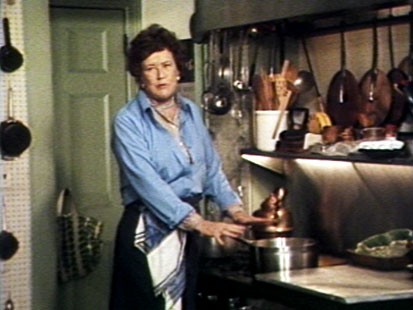 Julia Child prepares a skate fish dish step-by-step.
From the kitchen of Julia Child
When Nora Ephron, director of the Julia Child movie "Julie and Julia" appeared on "Good Morning America," we cooked up one of Julia's favorite dishes, her Salade Nicoise.
Ingredients
1 head of Boston Lettuce, large, washed and dried
2 to 3 Tbs virgin olive oil
Salt and freshly ground pepper
1 1/2 pounds fresh green beans, trimmed, blanched, refreshed in cold water, and dried
2/3 to 1 cup salad dressing, such as the Oil and Lemon Dressing (recipe HERE)
3 or 4 fine rip red tomatoes, peeled, if you wish, and cored, quartered and seasoned before serving
8 to 10 ounces oil-packed tuna, drained and flaked
1 quart of French Potato salad (recipe HERE)
8 hard-boiled eggs, halved lengthwise
1 can flat anchovy filets packed in oil, opened and drained just before serving
1/2 cup black Nicoise-type olives
3 or 4 Tbs. capers
1/4 cup fresh parsley, minced
Cooking Directions
Shortly before serving, line a handsome, large and wide salad bowl or a roomy platter with lettuce leaves, drizzle a little olive oil on them, and dust with a sprinkling of salt.
Toss the beans in a mixing bowl with a little of the dressing, and correct seasoning.
Drizzle a spoonful or two of the dressing over the tomatoes.
Season the tuna lightly with a spoonful or two of dressing.
Place the potatoes in the center of the bowl or platter; mound beans at strategic intervals, interspersing them with tomatoes and mounds of tuna.
Ring the salad with the eggs and curl an anchovy filet on top of each.
Spoon a little more vinaigrette over all; scatter on olives, capers, and parsley. Serve as soon as possible.
Recipe Summary
Main Ingredients: lettuce, olive oil, dressing, tuna, eggs, potato salad
Course: Dinner