Julia Child's Shrimp in Lemon and Garlic
Julia's Kitchen Wisdom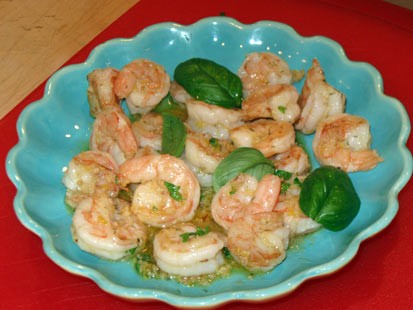 From the kitchen of Julia Child
Julia Child cooked up some of her specialties on Good Morning America. She also has some holiday specialties, including a Shrimp in Lemon and Garlic from her new book, Julia' s Kitchen Wisdom.
Ingredients
30 shrimp
5 tablespoons olive oil
1 or 2 large cloves garlic, minced
1/2 lemon peel, minced
soy sauce
parsley, minced
fresh dill
salt and pepper
Cooking Directions
Sauté 30 "large medium" peeled and de-veined raw shrimp in 3 tablespoons olive oil with 1 or 2 large cloves of garlic (minced), and the minced zest of half a lemon (yellow part of peel).
When the shrimp have curled, in 2 minutes or so, and feel springy, remove from heat and toss with 2 tablespoons fresh lemon juice, drops of soy sauce, and salt and pepper to taste.
Toss again, with 2 tablespoons of fine fresh olive oil and a sprinkling of minced parsley and fresh dill.
Recipe courtesy of Julia Child © 2000.
Recipe Summary
Main Ingredients: shrimp, garlic, lemon peel, dill, fish, seafood
Course: Appetizer/Starter, Dinner, Lunch