'GMA' Lunch Break: Seamore's Kale and Avocado Salad Recipe
As Seen on the 'GMA' Lunch Break Live Stream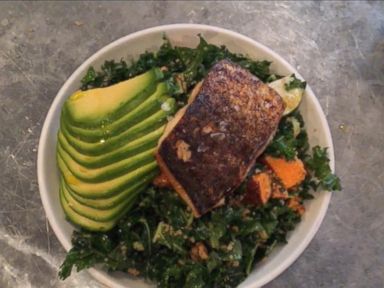 Chef Michael Chernow makes a healthy salad for "GMA's" Will Ganss.
From the kitchen of Seamore's
"GMA" visited Seamore's, a restaurant in New York City, and met up with owner Michael Chernow, to learn how to make their classic kale and avocado salad.
Watch the "GMA" Lunch Break live stream on ABCNews.com/live and the GMA Facebook page daily at 12:30 p.m. ET.
Ingredients
Honey Crisp apples, 2 each, thinly sliced in half moons
Jumbo Sweet Potato, 3 medium dice, roasted
Avocado, 2, medium dice
Quinoa, 1.5 cups (cooked)
Kale, 2 heads, chopped
Walnuts, roasted
EVOO, ¼ cup
Salt, pinch
For the Dressing:
Honey, Apple Vinaigrette, 1 qt.
Honey, 4 tbsp.
Apple Cider Vinegar, ¼ cup
Olive Oil, 1 cup
Dijon Mustard, 1 tbsp
Crushed Black Peppercorns, 1 pinch
Salt to taste
For the Roasted Walnuts:
Walnuts, 2 cups crushed
Olive Oil, ¼ cup
Salt, 1.5 tbsp.
Cooking Directions
For the Dressing:
In a mixing bowl, add your honey, dijon and apple cider vinegar. With a whisk lightly whisk all three of ingredients together. Once they have been whisked together, you will start to whisk your olive oil into the bowl, making sure that you are pouring the olive oil in slowly with a steady stream. Once it has all come together you will season your vinaigrette and gently whisk the salt and pepper in.
For the Roasted Walnuts:
Preheat your oven to 300F. While your oven is preheating, you will season your walnuts with salt and olive oil. Lay out your walnuts on a sheet tray with some parchment paper. Roast at 300F for 10 minutes or until golden brown. Let them cool down and then crush the walnuts.
To plate:
Combine kale, cooked quinoa, apple slices, avocado dices, roasted sweet potato and 2 tbsp. of honey apple cider vinaigrette and lightly toss. Top with toasted walnuts.
Recipes courtesy of Chris Cryer. Reprinted with permission for "Good Morning America."
Recipe Summary
Main Ingredients: apples, sweet potatoes, kale, avocado, quinoa, oil, apple cider vinegar, honey
Course: Dinner, Lunch, Salad