Kerry Heffernan's Frankenweenies 'In A Casket'
Gourmet Hot Dogs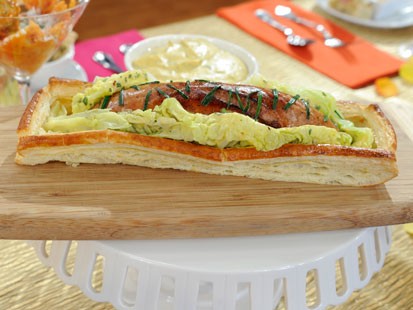 From the kitchen of Kerry Heffernan
|
Try these gourmet hot dogs from "Top Chef Master" Kerry Heffernan.
Ingredients
One kielbasa (about 16 ounces) trimmed into 2 9-inch lengths
One package puff pastry
One small bunch chives blanched, shocked and cut into 3/4 inch lengths
Six scallions greens only blanched shocked and dried
Four large outer leaves Savoy cabbage blanched, shocked, and dried
3 to 5 tablespoons Dijon mustard
Two sprigs tarragon picked of leaves chopped fine and combined with mustard
2 tablespoons butter
One egg beaten to use as egg wash
Cooking Directions
Lightly slash /the kielbasa diagonally across the top several times, then gently sizzle in a sauté pan with butter just to barely color the outside and crack the slashes
Preheat oven to 375 degrees. Meanwhile prepare the puff pastry into two 9.5 x 3" pieces. Lay a half inch strip on top to create an open "casket," and brush egg wash over top. Bake until golden. Brush the mustard on the blanched Savoy cabbage leaves and trim to just surround sausage. Use the chives to make stitches over open wounds on the outside of the sausage, and scallions to wrap altogether.
Lay inside puff pastry casket and serve warm with additional mustard.
Recipe courtesy Kerry Heffernan.
This recipe was styled by chef Karen Pickus for Good Morning America.
Other Recipes That You Might Like