Home
>
GMA
>
Recipes Home
>
Emeril Lagasse's Kicked-Up Sausage Macaroni and Cheese with Jalapeño Corn Muffins
Emeril Lagasse's Kicked-Up Sausage Macaroni and Cheese with Jalapeño Corn Muffins
Recipe Makeover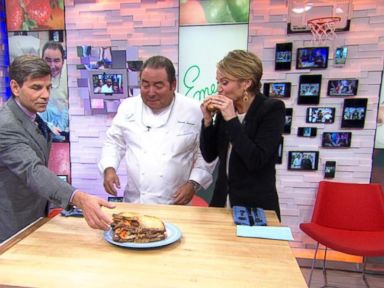 Viewers send pictures of their leftovers and get advice from Emeril Lagasse.
From the kitchen of Emeril Lagasse
|
Recipe fatigue is a common epidemic that infects every kitchen from time to time. Luckily, celebrity chef Emeril Lagasse has just the cure. He turned traditional mac and cheese into Kicked-Up Sausage Macaroni and Cheese with Jalapeño Corn Muffins.
Ingredients
9 tablespoons unsalted butter
1 pound elbow macaroni
1 pound homemade-style spicy pork sausage, removed from casings and crumbled
1 cup chopped yellow onions
1/2 cup chopped green bell peppers
4 teaspoons minced garlic
1/2 cup all-purpose flour
3 cups whole milk
1 teaspoon salt
1/2 teaspoon ground black pepper
1/8 teaspoon cayenne
3 cups grated sharp cheddar cheese (8 ounces)
1/2 cup fine dry bread crumbs
Cooking Directions
Preheat the oven to 350 degrees F. Butter a large casserole dish with 1 tablespoon of the butter and set aside. Bring a large pot of salted water to a boil. Add the macaroni and cook until al dente, about 10 minutes. Drain in a colander and rinse under cold running water. Drain well.
In a large skillet over medium-high heat, cook the sausage, stirring, until browned and the fat is rendered. Remove with a slotted spoon and drain on paper towels. Pour off all but 1 tablespoon of fat from the pan. Add the onions, bell peppers, and 1 teaspoon of the Essence, and cook, stirring, over medium-high heat until soft, about 3 minutes. Add the garlic and anise seeds, and cook, stirring, for 1 minute. Remove from the heat.
Melt the remaining stick of butter in a large, heavy saucepan over medium heat. Add the flour, and stirring constantly with a wooden spoon, cook over medium heat until thick, 3 to 4 minutes, being careful not to let the flour brown. Using a whisk, add the milk in a steady stream and cook, whisking constantly, until thick and smooth, 4 to 5 minutes. Remove from the heat.
Add the salt, pepper, cayenne, and 2 cups of the cheese, and stir well. Add the noodles, cooked sausage and vegetables, and stir well to combine. Pour into the prepared baking dish.
In a mixing bowl, combine the remaining 1 cup of cheese with the breadcrumbs and remaining 2 teaspoons of Essence. Sprinkle over the macaroni and bake until golden brown and bubbly, about 25 minutes. Remove from the oven and let rest for 5 minutes before serving. Serve with Jalapeño Corn Muffins.
Recipe courtesy Emeril Lagasse, copyright MSLO, Inc., all rights reserved. Styled by Karen Pickus for Good Morning America.
Other Recipes That You Might Like