Marcus Samuelsson's Killer Collards
Collard Greens With Spiced Butter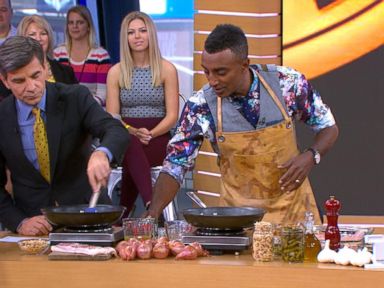 The celebrated chef visits Times Square to share recipes from "The Red Rooster Cookbook," his latest publication.
From the kitchen of Marcus Samuelsson
Chef Marcus Samuelsson shares his recipe for his collard greens from his new cookbook, "The Red Rooster Cookbook: The Story of Food and Hustle in Harlem."
"Everyone has a mom or aunty who knows 'the best' way to make collards, so I knew we'd have controversy when I skipped the ham hock or salt pork and made them lush with a lot of spiced butter. I love it! That kind of argument makes for the liveliest dinner table conversation," he writes.
Ingredients
1 cup (8 ounces) Spiced Butter
1 onion, chopped
2 Thai bird chiles, minced; or 1/2 teaspoon hot red pepper flakes
2 pounds collard greens, stemmed and chopped
1/4 cup apple cider vinegar
2 tablespoons brown sugar
Coarse kosher salt
Cooking Directions
Melt the spiced butter in a large stockpot over medium-high heat.
Add the onion and chiles and sauté, until the onion has softened, about 5 minutes. Add the collards and stir in the vinegar, brown sugar, and salt to taste and bring to a simmer.
Turn the heat down to low, cover, and simmer until the greens are very tender, about 1 and 1/2 hours.
Serve.
Copyright 2016 by Marcus Samuelsson. Photographs by Bobby Fisher. Houghton Mifflin Harcourt Publishing Company.
Recipe Summary
Main Ingredients: spiced butter, onion, chiles, collard greens
Course: Side Dish, Vegetable