KnisheryNYC's Pumpkin and Butternut Squash Knishes
A Unique Twist on a Classic Food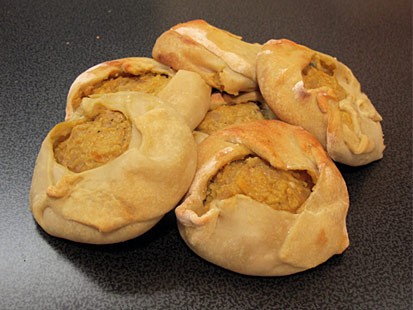 From the kitchen of Noah Wildman
Chef Noah brings a modern touch to a traditional NYC street food favorite—the Knish. Wildman fuses a variety of flavorful ingredients into the dough-based staple,- everything from Kasha to Beet and Horseradish to Chocolate and Hazelnut. You can find a full assortment of Knish flavors on his website, knisherynyc.blogspot.com, and even place an order for delivery for the upcoming Thanksgiving holiday by Saturday, November 17th if you live in New York City. In the meantime, Wildman shares his recipe for a warm and hearty Pumpkin and Butternut Squash Knish—just in time for the Thanksgiving holiday!
Ingredients
For the dough:
Eggs, beaten - 2 each
Vegetable shortening - 2 tbsp
Boiled russet potatoes, cooled & mashed - 2 cups
Salt - 1 tbsp
AP flour - 5 cups
For the filling:
Onion, large chop - 6 lbs
Vegetable shortening -- enough to cook the onion in
Russet potato, peeled, quartered - +/- 2 lbs
Sugar Pie Pumpkin, halved, deseeded - +/- 2 lbs
Butternut Squash, halved, deseeded - +/- 2lbs
Vegetable oil - to coat cut sides of pumpkin & squash
Eggs, beaten - 4 each
Vegetable shortening - 1/2 cup
Salt - to taste
Ground black pepper - to taste
Making the knishes:
Knish dough - 1 batch
Filling - 1 batch
Egg - 1 each
Salt - heavy pinch
Cooking Directions
For the dough:
In a mixer with beater paddle, beat eggs, shortening, potatoes and salt together. Change to dough hook, add flour, and knead on slowest setting until dough comes together and pulls off the sides of the bowl. Wrap in plastic wrap and let rest in refrigerator for a minimum one hour. Can be made in advance, up to 3 days.
For the filling:
Preheat oven to 400. Place oil-coated pumpkin and squash on baking sheet cut-side down. Bake in 400 degree oven 60 to 75 minutes until flesh is soft and yielding. Let cool then scoop out with a metal spoon. Pulse the flesh in a food processor until smooth, 4 to 5 three-second pulses. (You can substitute with cans of pumpkin, but it won't be as good. You can also substitute pumpkin with all butternut squash, few people will be able to tell the difference.)
Caramelize onion in a small amount of vegetable shorting and a pinch of salt in the largest, shallowest frying pan available. Cook over high heat while stirring consistently until the onions are dark golden brown and taste sweet. Depending on the onion's sugar content, your range and the size of your pan, this can take 15-45 minutes.
Place peeled & quartered russet potatoes in a pot of cold water and bring to a boil, return to simmer. When fork tender (15-25 minutes), drain and run through a food mill or ricer. (Use potato masher if not available) In a large pan or pot, combine pumpkin squash mix, caramelized onions, mashed potato, beaten eggs, vegetable shortening, some salt and black pepper. Mix by hand until fully combined and no pockets of any one ingredient. Taste for salt and pepper, add if necessary.
Filling can be held in a sealed, air-tight container for up to three days in the fridge, or frozen for up to 2 months.
Making the knishes
Knish dough - 1 batch
Filling - 1 batch
Egg - 1 each
Salt - heavy pinch
Preheat oven to 400. Line baking pan with parchment paper. Whisk egg with equal part cold water. Add salt, set aside egg wash. Using a large floured surface, roll out the dough so it is thin and even, about 1/8" thick. Cut into approximately 6" squares with a bench scraper or large knife.
Using a scoop, ladle, large spoon or your hands, place equal portions of filling in the center of each square, using care not to over-portion so there is dough on all sides to create the dumpling. Pick up one corner of the dough and fold it over the filling, slightly to the left. Continue this action so the dough forms a ringed pleat over the filling, with the filling peeking out through the center. Place on the baking sheet so there is a minimum of 1" between knishes, as they will expand in the oven.
Brush each knish with egg wash. Place in pre-heated oven 45-60 minutes, turning half way through. Remove when golden brown. Serve immediately, at room temperature, or refrigerate up to 3 days. Freeze for up to a month.
Recipe courtesy KnisheryNYC.
Recipe Summary
Main Ingredients: egg, shortening, pie pumpkin, squash
Course: Dinner