Tasting Table's Lamb Chops with Lavender and Honey
Easter Eats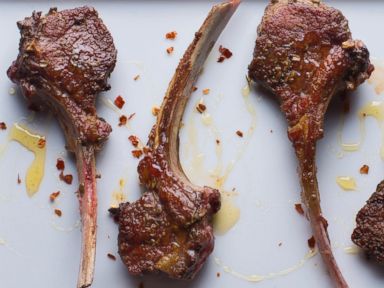 From the kitchen of Tasting Table
Easter classics like honey-baked ham and deviled eggs have made appearances at your holiday table for the last how many years? Spice things up this time with an updated recipe that evokes all things spring: Tasting Table's take on lamb chops with lavender and honey.
Ingredients
2 1/2 teaspoons salt
1 tablespoon of fresh lavender buds
3 garlic cloves, smashed
2 sprigs of rosemary, stems removed
4 thyme sprigs, bruised
2 lemon peels
8 lamb rib chops
4 tablespoons extra-virgin olive oil
3 tablespoon honey
1/2 teaspoon chile flake
Cooking Directions
French the lamb chops: Using a paring knife, scrape any excess meat and fat off the bones of each chop.
In a small bowl, mix the salt, lavender, garlic, rosemary, thyme and lemon peels. Arrange the lamb chops in a single layer on a baking sheet. Drizzle two tablespoon of the olive oil and, using your hands, rub the lavender and herb salt mixture over the meat to coat each chop thoroughly. Cover with plastic wrap and refrigerate overnight.
Remove the lamb chops two hours before cooking to allow the meat to come close to room temperature. Remove and discard the garlic, rosemary, thyme and lemon peel.
In a large skillet over medium heat, heat the remaining 2 tablespoons of olive oil. Sear the lamb chops over medium heat until cooked to desired doneness, about 3 minutes per side for medium rare.
Divide the lamb chops among 4 plates. Garnish with a drizzle of honey and chile flakes and serve immediately.
Recipe courtesy TastingTable.com.
Recipe Summary
Main Ingredients: lavender buds, rosemary, thyme, rib chops, honey
Course: Dinner