Lara Spencer's Long Island Nice Tea
A Tea Mixed With Mint, Lime and Cayenne!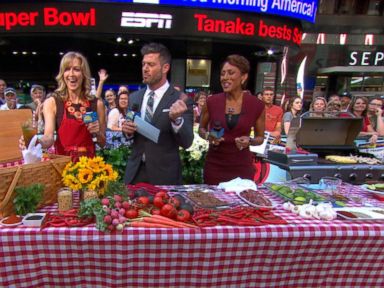 ABC anchors debut Spencer's Spicy Steak Supreme against Zee's Spice-Zee Buffalo Wings.
From the kitchen of Lara Spencer
"GMA"'s Lara Spencer is from New York's Long Island. This is her take on the island's notable beverage.
Ingredients
1/4 cup sugar
1/4 cup water
4 tbs. Earl Grey tea
2 quarts water
2 bunch spearmint sprigs
1/4 tsp cayenne
2 limes, juiced
Cooking Directions
Combine the 1/4 cup sugar with the 1/4 cup water in a small sauce pan.
Bring to a boil to form a simple syrup. Bring 2 quarts of water to a boil add Earl Grey tea bags and the mint and let steep for 2 hours.
Remove the tea bags. Then stir in the cayenne and the simple syrup. Place in the refrigerator to cool.
Strain out the mint. Stir in the lime juice.
Serve with lime wedges and fresh mint sprigs over ice cubes.
Recipe courtesy Karen Pickus, chef/food stylist, "Good Morning America" 2015.
Recipe Summary
Main Ingredients: earl gray tea, spearmint springs, lime, cayenne
Course: Lunch, Drinks
More Info: Low Fat