Lauren Brennan's Brownie Cheesecake Peppermint Bars
12 Days of Cooking Contest Winner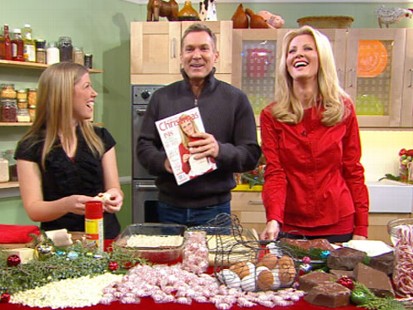 The "12 Days of Cooking Challenge" winner joins Sandra Lee in the kitchen.
From the kitchen of Lauren Brennan
Check out Lauren Brennan's dreamy peppermint bar. This tasty dessert is as easy to make as it is enjoyable to eat.
Ingredients
1 tube refrigerated sugar cookie dough
1 family-sized box brownie mix
2 (8oz.) packages cream cheese
2 1/2 cups white chocolate chips
2 teaspoons peppermint extract, divided
4 candy canes, crushed
Cooking Directions
Make brownie batter according to package directions, but add 1 teaspoon of peppermint extract.
Bake according to package directions and set aside to cool.
Spray a 9-by-13'' rectangular pan with non-stick cooking spray and spread cookie dough along the bottom, creating an even layer. Bake cookie dough according to package directions, until edges are golden brown. Set aside to cool.
Once brownies have cooled, remove any hard edges and discard (or eat!). Scrape the rest of the baked brownies into a large bowl. Combine brownies with cream cheese to create a thick mixture that is generally uniform in color. Scoop this mixture onto the baked and cooled cookie dough. Smooth the top.
Over a double boiler, melt white chocolate. Gently stir in 1 teaspoon of peppermint extract. Spread melted chocolate over the cookie-brownie mixture, sprinkle with candy canes and let cool. Once chocolate has hardened, cut into bars and enjoy!
NOTES FROM LAUREN:
When you are melting the chocolate you need to make sure it doesn't get too hot or else it will seize up when you stir in the extract.
Imitation peppermint extract isn't nearly as strong as alcohol or oil based extracts, so you'll have to add more in to get a stronger peppermint flavor. You can taste as you go to get the desired amount.
Scoring the top of the melted white chocolate before putting it into the fridge to set will help prevent the chocolate from cracking.
This recipe was styled by chef Karen Pickus for Good Morning America.
For more great recipes from Lauren Brennan, click here
Recipe Summary
Main Ingredients: sugar cookie dough, brownie mix, peppermint stick, cream cheese
Course: Dessert, Party Platter, Snack