Lauren Hirschberg's Pecorino Risotto Balls
Try This Amazing Appetizer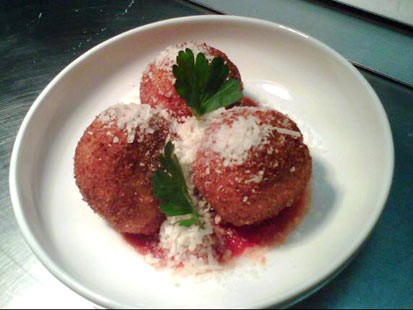 From the kitchen of Lauren Hirschberg
|
This is a fried appetizer you won't be able to refuse this holiday season. Serve with your favorite marinara sauce and watch them disappear.
This recipe is courtesy of Lauren Hirschberg of Craftbar, New York.
Ingredients
1 cup white wine
2 tablespoons butter
6 cups chicken broth, or as needed
3 cups Arborio rice
1 small white onion, chopped
1 tablespoon chopped fresh thyme
1 cup grated Parmesan cheese
1 pound pecorino cheese, cubed (30-day aged tuscano style is what we use)
2 cups plain dried bread crumbs
2 whole eggs, beaten
2 cups flour
2 quarts oil for frying
Cooking Directions
Melt the butter in a large skillet over medium heat. Add the onion; cook and stir until transparent, about 3 minutes. Mix in the rice, and continue cooking and stirring until the rice has absorbed most of the butter.
Slowly stir the white wine and into the rice, stirring continuously until the wine is absorbed and rice is creamy. Season with a dash of salt, then pour in 1 cup of chicken broth at a time, cooking and stirring constantly until each cup of broth is absorbed before adding the next. Stop adding broth when the rice is tender. If you run out of broth, you may use water. Remove from the heat, stir in the Parmesan cheese and allow to cool until you can touch it without burning your hands.
Lightly grease a large cookie sheet with olive oil. Pour the risotto out onto the sheet and spread evenly. Place in the refrigerator for about 1 hour or until chilled.
When the rice is cool, roll small portions into balls about the size of golf balls. Tuck a cube of fontina cheese into the center of each one. Roll each ball in flour, then egg, then bread crumbs to coat.
Heat the oil in a heavy bottom pot or deep fryer to 375 degrees F 190 degrees C). The oil should be about 3 inches deep. When the oil is hot, fry the arancini until they reach a golden orangish brown, about 3 minutes. Cool for 5 minutes, then serve with any marinara sauce.
Recipe courtesy Lauren Hirschberg of Craftbar.
Other Recipes That You Might Like