Laurent Tourondel's Brioche Monkey Bread
A Heavenly Pull-Apart Bread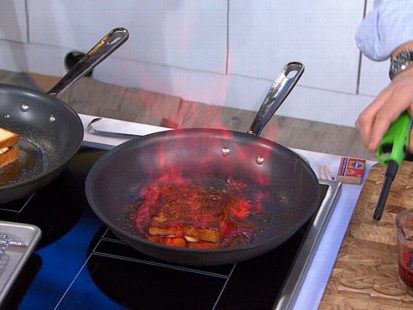 Arlington Club chef shows Josh Elliott how to make his delicious Nutella breakfast.
From the kitchen of Laurent Tourondel
Try this heavenly brioche monkey bread from chef Laurent Tourondel.
Ingredients
For the brioche dough:
2 tablespoons milk
¼ ounce fresh yeast
1 /2 cups bread flour
1 tablespoon + 1 teaspoon sugar
1 tablespoon heavy cream
1 tablespoon sour cream
½ teaspoon fine sea salt
2 eggs
7 tablespoons butter, softened
For the cinnamon sugar mix:
¼ cup dark brown sugar
¼ cup granulated Sugar
½ ounces cinnamon
For the toasted pecans:
1/3 cup pecans
2 teaspoons sugar
1 stick butter, melted
For the whiskey caramel sauce:
¼ cup sugar
2 tablespoons corn syrup
4 tablespoons water
¼ cup sweetened condensed milk
¼ teaspoon fine sea salt
½ vanilla bean, scraped
½ cup whiskey
1/3 cup maple syrup
1 ½ teaspoons cinnamon
For the orange whiskey butter:
6 tablespoons soft butter
1 tablespoon powdered sugar
2 tablespoons orange marmalade
1 tablespoon grand marnier
1 drop orange bitters
¼ teaspoon orange blossom water
Zest of 1 orange
2 teaspoons Whiskey
For the garnish:
Powdered sugar
Zest of 1 orange
Cooking Directions
Make the brioche Heat the milk until it feels warm to the touch, 110°F on an instant read thermometer. Crumble the yeast into the milk and stir until dissolved.
In a standing mixer fitted with the paddle attachment, combine the flour, sugar, salt, the yeast mixture, heavy cream, and sour cream and mix over low speed. Add the eggs, and stir until the mixture begins to pull away from the side of the bowl. Add the softened butter and mix again until blended and a sticky dough forms. Cover the dough with plastic wrap and refrigerate until firm, approximately for 2 hours.
With your hands, flatten the dough. Using a rolling pin, carefully roll dough to a thickness of ¾-inch. Using a 1 ¾-inch round mold, cut dough into 12 pieces.
Make the cinnamon sugar mix Blend all ingredients in a small bowl until well combined.
Place the melted butter in deep bowl. Dip each piece of dough into the melted butter and roll in cinnamon sugar mix to coat evenly.
Toast the pecans Preheat oven to 325°F. Toss the pecans with the sugar and spread on a sheet pan. Bake for 10-12 minutes tossing frequently until toasted. Reserve for later use.
Make the whiskey caramel sauce Combine the sugar, corn syrup and 2 tablespoons of water in a small pot and bring to a boil. Once the mixture turns into caramel, 10-15 minutes remove from heat. In a separate bowl, whisk together the remaining 2 tablespoons of water, sweetened condensed milk, salt and vanilla seeds until combined. Add to caramel mixture and stir until combined. Simmer mixture for 2 minutes, strain (discarding any solids) and allow liquid to cool to room temperature. Once cool, add the remaining ingredients and mix until well combined.
Pour enough of the whiskey caramel sauce into an 8-inch cake pan to fill ¼ up. Arrange dough in one even layer over the sauce. Allow to sit, in room temperature until buns have doubled in size and is soft to the touch, about 30 minutes
Make the orange butter Place the butter in the bowl of a standing mixture fitted with the whisk attachment. Beat in remaining ingredients one at a time in the order listed, making sure the mixture is well combined after each ingredient. Whisk until mixture becomes fluffy in texture, 3-5 minutes.
Bake the sticky buns Preheat oven to 350°F. Bake sticky buns until the dough is cooked through and the caramel has thickened, about 20 minutes. Remove from heat, and while sticky buns are warm, drizzle with remaining caramel sauce and brush generously with orange butter. Top with toasted pecans and sprinkle with powdered sugar. Garnish with grated orange zest and serve.
Recipe courtesy of Laurent Tourondel.
This recipe was styled by chef Karen Pickus for Good Morning America.
Recipe Summary
Main Ingredients: butter, whiskey, yeast, flour, sugar, milk
Course: Breakfast, Dessert