Food & Wine's Lemon-Cranberry Pie Bars
Pie For A Crowd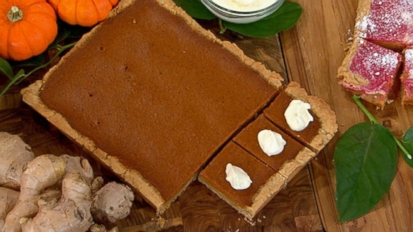 Gail Simmons' pie bars simplify your holiday dessert menu.
From the kitchen of Food & Wine
|
Baking pies for a large crowd can be intimidating and time-consuming, but Gail Simmons stopped by "Good Morning America" with Food & Wine's quick fix. By using an easy press-in crust and turning the pies into bars, you can feed large amounts of people with a lot less work. Try these simple lemon-cranberry pie bars this Thanksgiving.
Ingredients
1 cup cranberries
2 3/4 cups granulated sugar
Pinch of ground cloves
1/4 cup water
4 large eggs
2 egg yolks
1 teaspoon finely grated lemon zest
1/2 cup fresh lemon juice
3/4 cup all purpose flour
Confectioners' sugar, for dusting
Cooking Directions
Preheat the oven to 350 degrees F. In a saucepan, simmer the cranberries with 1/4 cup of the sugar, the cloves and water over moderately low heat until the berries pop and the liquid thickens, about 8 minutes. Transfer to a blender and puree until smooth. Strain and press the puree through a fine sieve set over a bowl and let cool completely.
In a medium bowl, whisk the remaining 2 1/2 cups of sugar with the eggs, egg yolks, lemon zest, lemon juice and flour.
Mix 1 cup of the lemon filling into the cranberry puree; pour the rest of the lemon filling into the crust. Swirl in the cranberry-lemon mixture. Bake for 35 minutes, or until set. Transfer the pan to a rack; let cool. Dust with confectioners' sugar and serve.
Make Ahead: The bars can be refrigerated for up to 2 days. Serve chilled or at room temperature.
Recipe contributed by Sarah Jordan.
This recipe was styled by chef Karen Pickus for Good Morning America.
Other Recipes That You Might Like