Whole Living's Roasted Red Pepper Soup with Quinoa Salsa
Made With a Light and Fresh Salsa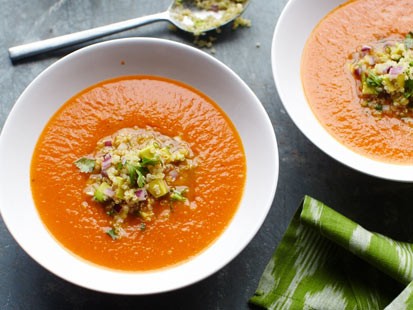 From the kitchen of Whole Living Magazine
Red peppers are roasted easily right on your stove top for this delicious and sweet soup. Don't run the peppers under water as they will lose their flavor.
Ingredients
2 Tbsp extra-virgin olive oil
1 onion, chopped
2 cloves garlic, sliced
Pinch red-pepper flakes
4 red bell peppers, roasted and quartered (see tip, bottom right)
3 cups low-sodium chicken stock
Coarse salt
1 cup cooked quinoa
¼ small red onion, diced
1 avocado, diced
2 Tbsp freshly chopped cilantro
Lime wedges, for serving
Cooking Directions
Heat oil in a medium saucepan over medium heat. Add onion, garlic, and red-pepper flakes and cook until tender, 6 to 8 minutes. Add roasted peppers and stock. Bring to a boil; reduce heat and simmer, 10 minutes. Let cool slightly, then purée in a blender until smooth. Season with salt.
In a small bowl, mix together quinoa, red onion, avocado, and cilantro. Season with salt. To serve, ladle soup into bowls, top with quinoa salsa, and squeeze with lime.
per serving: 165 cals; 10 g fat (2 g sat fat); 3 mg chol; 17 g carbs; 78 mg sodium; 5 g protein; 5 g fiber
10-MINUTE ROASTED RED PEPPERS
Char peppers over flame of a gas stove, turning, until blackened and blistering. Transfer to a bowl, cover with a plate, and let stand until cool. Scrape skins off with a paring knife and clean with a paper towel. Then remove stems, ribs, and seeds. Avoid running the peppers under the faucet; water quickly dulls their flavor.
Courtesy of Whole Living magazine. Copyright 2011
Recipe Summary
Main Ingredients: onion, garlic, avocado, cilantro, lime, red pepper
Course: Soup
More Info: Kid Friendly