Whole Living's Spicy Peanut-Shrimp
Pour into Bowls with Spinach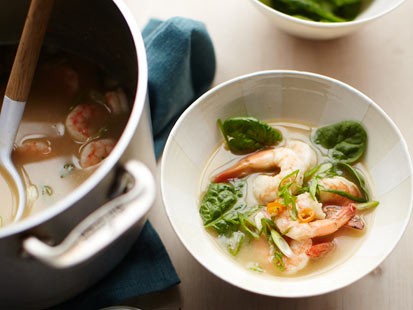 From the kitchen of Whole Living Magazine
You'll love the flavor of garlic, chiles, and spinach in this soup.
Ingredients
4 cups low-sodium chicken stock
2 cloves garlic, sliced
2 small red chiles, sliced
1 Tbsp freshly grated ginger
2 Tbsp fish sauce
¼ cup natural peanut butter
1 lb medium shrimp, cleaned, tail on
2 cups baby spinach
1 scallion, thinly sliced
Cooking Directions
In a medium saucepan, simmer stock, garlic, chiles, ginger, and fish sauce, 10 minutes.
Whisk in peanut butter. Add shrimp and cook until opaque, about 1 minute. Remove from heat.
To serve, fill bowls with baby spinach. Ladle soup over and garnish with scallion.
per serving: 266 cals; 11 g fat (2 g sat fat); 177 mg chol; 10 g carbs; 390 mg sodium; 31 g protein; 2 g fiber
Courtesy of Whole Living magazine. Copyright 2011
Recipe Summary
Main Ingredients: peanut butter, shrimp, chicken stock, garlic cloves, red chiles, spinach
Course: Soup
More Info: Kid Friendly, Low Saturated Fat