Whole Living's White Bean and Mushroom Stew
A Comfy Winter Meal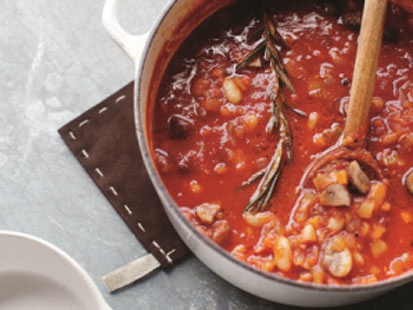 From the kitchen of Whole Living Magazine
|
This is the perfect stew for a cold winter day. Ladle into bowls and drizzle with olive oil.
Ingredients
2 Tbsp extra-virgin olive oil, plus more for drizzling
1 onion, chopped
1 stalk celery, diced
1 carrot, peeled and diced 1 lb cremini mushrooms, quartered
½ cup white wine
1 28-oz can whole tomatoes, puréed in a blender
1 sprig fresh rosemary
2 cups cooked white beans (equivalent to one 16-oz can), drained
Coarse salt and freshly
Ground pepper
Cooking Directions
Heat oil in a medium saucepan over medium heat. Cook onion, celery, and carrots until tender, about
8 minutes. Increase heat to medium-high, add mushrooms, and cook until softened, 5 to 7 minutes.
Deglaze with wine, scraping up any brown bits with a wooden spoon. 3. Add tomatoes, rosemary, beans, and ½ cup water. Bring to a boil; reduce heat and simmer until slightly thickened, about 15 minutes. Season with salt and pepper. Serve with a drizzle of oil.
per serving: 195 cals; 5 g fat (1 g sat fat); 0 mg chol; 26 g carbs; 212 mg sodium; 9 g protein; 6 g fiber
Courtesy of Whole Living magazine. Copyright 2011
Other Recipes That You Might Like