Liza Huber's Banana Baby Food
Make This Nutritious Food For Your Child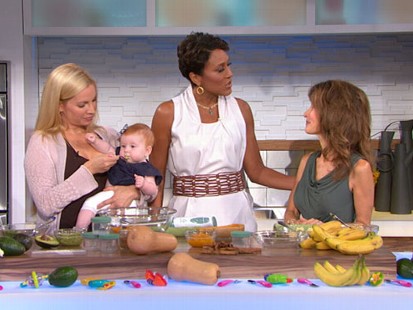 Liza Huber and Susan Lucci explain how to prepare fun meals for your baby.
From the kitchen of Liza Huber
|
This recipe is for babies 4-6 months and up. Make this natural and healthy baby food your child will love.
Ingredients
6 ripe bananas (with some small brown spots)
1 Large Banana = 4 oz puree
Cooking Directions
Peel the banana, break it in half and place in a bowl.

Mash with the back of a fork or spoon until smooth and serve. Add
breast milk or formula, if needed, to thin puree.

Banana puree can be stored in your Sage Spoonfuls jars for 1 day in
the refrigerator and up to 3 months in the freezer. Some discoloration
during storage can be expected.

Serving:
Banana puree tastes great at room temperature, warm, or cool.
For a creamier consistency with added nutrition, mix puree with a little
breast milk or formula and a baby cereal (rice or oatmeal) and serve
warm. For extra flavor, add a pinch of cinnamon.

This recipe was styled by chef Karen Pickus for Good Morning America.

Recipe courtesy of Liza Huber. Purchase her cookbook, Sage Spoonfuls, here.
Other Recipes That You Might Like