Liza Huber's Butternut Squash Baby Food
Make This Nutritious Food For Your Child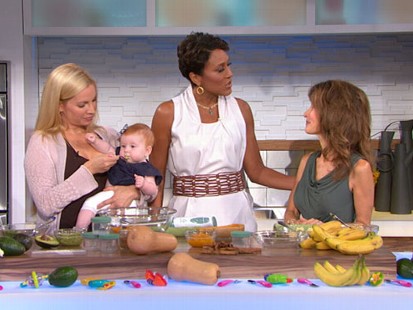 Liza Huber and Susan Lucci explain how to prepare fun meals for your baby.
From the kitchen of Liza Huber
|
Liza Huber, author of "Sage Spoonfuls", creates delcious wholesome baby food. Make this natural and healthy baby food your child will love.
Ingredients
1 Large Butternut Squash = 25 oz puree
Cooking Directions
Preheat oven to 450 degrees and line a baking sheet with
unbleached parchment paper.

Cut the butternut squash in half lengthwise, scoop out the seeds
and stringy fibers with a spoon and discard.

Place squash cut side down on the baking sheet and place in oven
on the middle rack.

Roast for about 45 minutes, until squash is easily pierced with a fork.

Let cool for 5 minutes then scoop the squash out of the skin with a spoon
or just peel the skin right off. It's best to use an oven mitt when handling
the roasted squash so you don't burn your hand.

Puree until smooth, using an immersion blender or food processor.
Butternut squash is naturally juicy, so you won't need additional liquid for
thinning.

Let cool and serve or store.

Butternut squash puree can be stored in Sage Spoonfuls jars for up to 3
days in the refrigerator and up to 3 months in the freezer.

Serving:
Butternut Squash puree tastes great both warm and cool. For a
creamier consistency with added nutrition, mix puree with a little breast
milk or formula and a baby cereal (rice, oatmeal, millet, or barley) and
serve warm. For extra flavor, add a pinch of cinnamon.

This recipe was styled by chef Karen Pickus for Good Morning America.
Recipe courtesy of Liza Huber. Purchase her cookbook, Sage Spoonfuls, here.
Other Recipes That You Might Like