Delicatessen's Lobsta Mac
A Delicacy from NYC's Delicatessen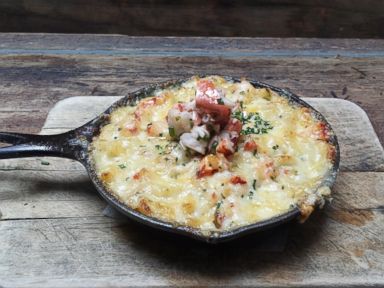 From the kitchen of Michael Ferraro
The executive chef of New York City's Delicatessen stopped by GMA LIVE! to share his recipe for Lobsta Mac.
Ingredients
Sauce:
¼ cup all purpose flour
¼ cup butter
1 quart whole milk
2 cups fontina cheese
1 cup mascarpone cheese
¼ teaspoon nutmeg
2 tablespoons cognac
1 teaspoon Tabasco sauce
3 tablespoons dark lobster stock
Pasta:
1 pound elbow macaroni
6 quarts water
2 tablespoon of salt
Cooking Directions
For the sauce: Combine flour with milk in a sauce pot and cook for 5 minutes over med heat while whisking. Add milk, bring to a simmer while whisking, and cook over low heat for 10 minutes. Slowly add cheeses while whisking. Combine nutmeg, cognac, and tobasco sauce. Season to taste with salt and black pepper.
For the pasta: Bring a pot of water to a boil and add salt. Put in elbow macaroni and cook until al dente, roughly 8 – 12 minutes. Drain pasta and save.
To assemble and serve: In a large bowl, mix together the cooked pasta, cheese sauce, lobster, scallion and chives. Place in a baking pan and cover top with grated white Vermont cheddar and the remaining fontina. Bake at 375 until the top is browned, about 30 minutes. Finish by adding fresh chives as garnish.
Recipe Summary
Main Ingredients: flour, butter, whole milk, cheese, elbow macaroni
Course: Side Dish