Lorraine Wallace's Corn Salad
Enjoy Sweet Summer Corn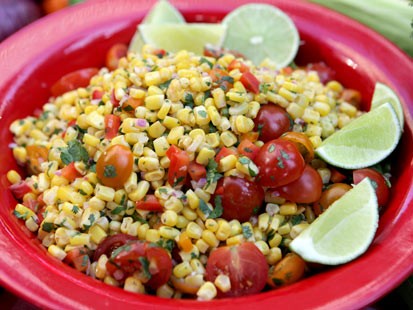 From the kitchen of Lorraine Wallace
|
This is a handy dish to have in the refrigerator for hot summer days when you don't want to fuss in the kitchen. It keeps for several days refrigerated.
Ingredients
6 ears of corn, your choice, husked and ends removed (about 4 cups)
1/2 cup whole milk
Coarse salt
1/2 cup chopped sweet red onion
1/2 cup chopped red bell pepper
1/2 cup halved cherry tomatoes
Juice of 1 lime
1 tablespoon seasoned rice vinegar
Freshly ground black pepper
1/2 teaspoon cayenne pepper
1/2 cup fresh cilantro, stems removed and finely chopped
Cooking Directions
In a large pot, cover the corn with water and add the milk and a large pinch of salt. Bring to a boil over medium-high heat, reduce the heat, cover partially, and cook until tender, 4 to 6 minutes. Drain the corn in a colander and rinse with cold water. Let cool, then cut the kernels from the ears with a sharp knife; you should have about 4 cups corn kernels.
In a medium bowl, combine the corn kernels with the onion, bell pepper, tomatoes, lime juice, vinegar, salt, black pepper, and cayenne to taste. Fold in the cilantro and mix in well. Chill for 2 hours or overnight. Bring to room temperature before serving. The salad will keep in the refrigerator for up to 3 days, tightly covered.
Recipe courtesy Wiley & Sons.
This recipe was styled by chef Karen Pickus for Good Morning America.
Other Recipes That You Might Like