Lorraine Wallace's Picnic Potato Salad
A Classic Summer Salad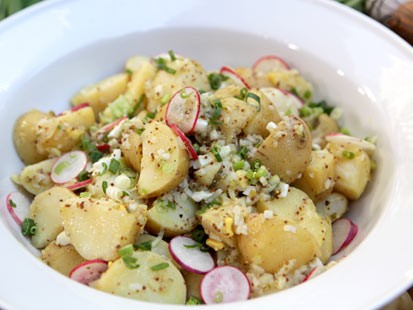 From the kitchen of Lorraine Wallace
|
This potato salad is more like a German-style potato salad. The recipe calls for sweet pickle relish and mustard instead of mayonnaise. It keeps well in the refrigerator and packs well for picnics and family outdoor meals.
Ingredients
2 1/2 pounds Yukon gold potatoes, scrubbed and halved
1/4 teaspoon coarse salt
1/2 cup white wine vinegar
1/3 cup extra-virgin olive oil
2 tablespoons grained mustard
1 hard-boiled large egg, chopped
1/2 cup finely chopped celery
1 small white onion, finely chopped
2 tablespoons sweet pickle relish
2 teaspoons sweet pickle juice
4 radishes, sliced, for garnish
4 scallions, chopped, for garnish
Cooking Directions
In a medium saucepan, cover the potatoes with cold water, add the salt, and bring to a boil. Cook, stirring occasionally, until tender, 15 to 20 minutes.
While the potatoes are cooking, in a bowl, whisk together the vinegar, oil, and mustard until well combined. In another bowl, combine the egg, celery, onion, pickle relish, and pickle juice. Add the vinegar mixture and toss to coat.
Drain and rinse the potatoes briefly under cool water. While the potatoes are still warm, combine them with the dressed ingredients in the bowl. Transfer the potato salad to a large serving bowl and garnish with the radishes and scallions.
Recipe courtesy Wiley & Sons.
This recipe was styled by chef Karen Pickus for Good Morning America.
Other Recipes That You Might Like