'Impatient Foodie' Elettra Wiedemann's Lotte's Mess recipe
Add this quick and easy dessert to your summer table.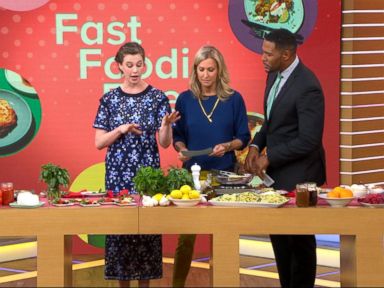 Elettra Wiedemann prepares three weekday meal fixes for the summer that cut down time for a fast and easy summer feast.
From the kitchen of Elettra Wiedemann
Elettra Wiedemann is a former fashion model whose blog and new cookbook, both titled "Impatient Foodie," feature shortcuts and recipes for busy people who want delicious meals. Wiedemann's recipe for Lotte's Mess was inspired by a woman named Lotte whom Widemann met in Sweden and combines meringues and ice cream for an easy treat.
Ingredients
1 pint vanilla ice cream, slightly softened
2 cups roughly chopped mini meringues
1/2 cup chocolate sauce
1/2 cup caramel sauce
Whipped cream
Berries in season
Cooking Directions
In a large bowl, combine the ice cream and meringues, using a large spoon to mix well.
Drizzle the chocolate sauce and caramel sauce over everything, followed by a slightly obscene amount of whipped cream and finally the berries.
Serve immediately.
Recipe courtesy Elettra Wiedemann.
Recipe Summary
Main Ingredients: vanilla ice cream, meringues, chocolate sauce, caramel sauce
Course: Dessert