Emeril Lagasse's Louisiana-Style Cane Syrup Sweet Potatoes
A Kicked Up Side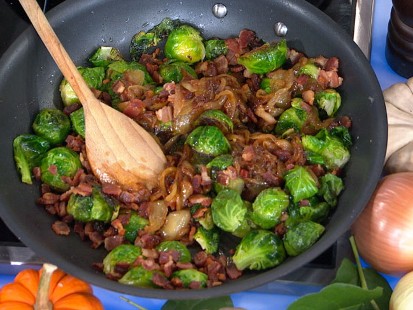 Lagasse whips up voter favorite roasted Brussels sprouts with caramelized onions and pancetta.
From the kitchen of Emeril Lagasse
Emeril Lagasse's phrase, "kick it up a notch" became famous for a reason—the New Orleans-raised chef raises flavors to the next level. This year, take your Thanksgiving to Emeril's star status with his recipe for Louisiana-Style Cane Syrup Sweet Potatoes.
Ingredients
About 3 pounds sweet potatoes, peeled and sliced crosswise into 1/2-inch-thick rounds
2 tablespoons canola or grapeseed oil
1/2 teaspoon salt
4 tablespoons (1/2 stick) butter, melted
1/4 cup cane syrup (we recommend Steen's)
1/2 cup packed dark brown sugar
1 cup pecan pieces
Cooking Directions
1. Preheat the oven to 400°F.
Combine the sweet potatoes with the oil and salt in a mixing bowl, and toss to coat well. Place the
sweet potatoes on a baking sheet and arrange them in a single layer. Transfer to the oven and cook until
they begin to caramelize and soften, about 30 minutes.
Meanwhile, combine all the remaining ingredients in a small mixing bowl.
Transfer the potatoes to a casserole dish. Pour the syrup mixture over them, and using a spatula, toss to coat well. Return the casserole to the oven and continue to cook, carefully stirring once, until the potatoes are caramelized and tender, about 30 minutes.
Serve hot.
Recipes courtesy Emeril Lagasse, from Farm to Fork: Cooking Local, Cooking Fresh, Harper Collins Publisher, New York, 2010, copyright MSLO, Inc., all rights reserved
Recipe Summary
Main Ingredients: sweet potatoes, butter, cane syrup, dark brown sugar, pecans
Course: Side Dish, Starch