Mom blogger Laura Fuentes' lunchbox burrito bowl recipe
Try these easy kid friendly burrito bowls!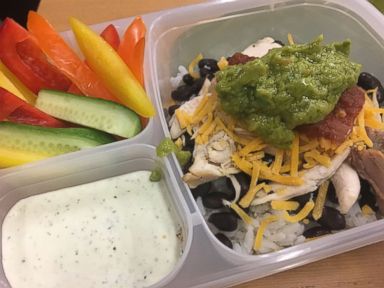 From the kitchen of Laura Fuentes
Momables food blogger Laura Fuentes shared her recipe on "Good Morning America" for a lunchbox chicken and rice burrito bowl. Try out the delicious and simple recipe to make for the kids and pack it up for lunch!
Ingredients
3 cups cooked rice
1 Rotisserie chicken, shredded
8 ounces fresh salsa
1 15oz can black beans, rinsed and drained
1 1/2 cups shredded cheddar cheese
8oz guacamole
Sour cream
Cilantro, finely chopped or garnish
Optional: Cliantro dressing
3/4 cup mayonnaise
3/4 cup plain Greek yogurt
2 tablespoons lime juice
1 tablespoon olive oil
1/3 cup milk
1/3 cup chopped cilantro
2 garlic cloves
1/2 jalapeño, stemmed and seeded
1/4 teaspoon salt
1/4 teaspoon pepper
Cooking Directions
Cook rice according to package directions on the stovetop or rice cooker.
Prepare your burrito bowl toppings by transferring them into bowls, self serve style.
Heat your rotisserie chicken and shred the meat, using two forks and on a cutting board, into smaller pieces.
Fill serving bowls or lunch containers with cooked rice, top with shredded chicken, salsa, and remaining ingredients to build your burrito bowl. Drizzle with cilantro dressing, if desired.
To make cilantro dressing, place all ingredients a blender or food processor, combine all ingredients and blend until smooth and creamy. Refrigerate leftovers up to one week.
Recipe Summary
Main Ingredients: chickpeas, onion, corn, bread crumbs
Course: Lunch, Dinner