Oh Bite It!'s Mac & Cheese Burritos
Stuff It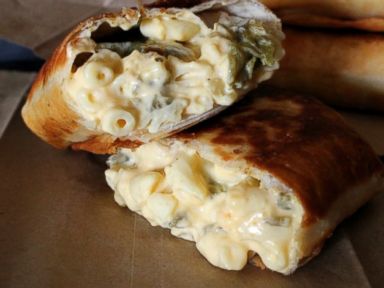 From the kitchen of Oh Bite It!
Think about it: what food can't be improved with mac and cheese? See what we mean with Oh Bite It!'s recipe below for a mac & cheese burrito.
Ingredients
5-6 medium/large flour tortillas
Approximately 4 cups cooked mac and cheese
1 cup peeled and chopped roasted green chile (optional)
Canola oil, for frying
Cooking Directions
In a medium bowl, combine the cooked mac & cheese with the green chiles and mix well. Place a nice, thick line of the mac & cheese mixture down the center of a tortilla and roll it up.
In a shallow frying pan, fry each Burrito up in about 2 inches of canola oil. Place them seam-side down to start. Fry them until they're golden on all sides.
Let them cool off on some paper towel and enjoy.
Recipe Summary
Main Ingredients: flour tortillas, mac & cheese
Course: Main Course