Dan Whalen's Mac and Cheese Stuffed Burger
Next-Level Comfort Food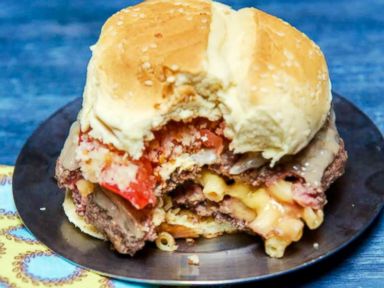 From the kitchen of Dan Whalen
Dan Whalen, founder of The Food In My Beard blog, is coming out with a comfort food book that stuffs your favorite foods inside more of your favorite foods. Try his recipe below for a Mac and Cheese Stuffed Burger.
Ingredients
Mac and Cheese
1/2 small onion
1 clove garlic
8 ounces Cheddar cheese
8 ounces Jack cheese
8 ounces pasta
1 1/2 tablespoons butter
1 1/2 tablespoons flour
1 1/2 cups milk
Salt
Burgers
2.25 pounds ground beef
salt and pepper
1 cup breadcrumbs
1/4 cup olive oil
20 tomato slices
8 burger buns
Cooking Directions
Make the mac and cheese: Dice the onion very small. Mince the garlic. Grate the cheeses. Bring a pot of salted water to a boil and cook your pasta until al dente according to package directions. Meanwhile, cook the onion in the butter for about 5 minutes. Toss in the garlic. Next, add the flour and whisk well to combine. Cook for about 3 minutes, stirring the whole time, until the flour turns a slightly toasted hue. Add the milk and whisk well to eliminate any lumps. Bring to a simmer and remove from the heat. Add the pasta, then mix in the cheese. Stir until all the cheese melts, which should happen naturally, but you can put it back on to low heat if necessary. Taste and add salt if necessary, as all cheeses have different salt contents. Pour the pasta onto a 9 x 13-inch pan lined with parchment paper and smooth out into a thin layer. refrigerate until hardened, about 2 hours. Cut your sheet of mac and cheese into rounds about 3 1/4 inches in diameter to facilitate burgers that will be 4 to 4 1/2 inches round. A cookie cutter will help with this task if you have one that is the right size. You should be able to get 10 or 11 mac and cheese patties out of this if you cut it right.
Stuff it: Roll your beef out thin (about 1/2 inch ) and lightly season with salt and pepper. Place a mac and cheese round onto the beef and wrap the pasta in the meat. Tightly seal and press out any air. Mix the breadcrumbs with the olive oil. Lay your tomatoes on a sheet pan and press some breadcrumbs onto each tomato round. Broil the tomatoes for a minute or two to brown the breadcrumbs.
Cook it: Grill your burgers for about 7 minutes per side, being sure to close the grill or cover the burgers so that the pasta inside is heated through. If you see any cheese starting to explode out of the burger, take it off the grill. Build the burger by putting one of the patties on the bottom bun, topping with two breadcrumb-coated tomato slices and then the top bun.
Recipe Summary
Main Ingredients: cheddar cheese, pasta, butter, ground beef, breadcrumbs, buns
Course: Dinner