Roy Yamaguchi's macadamia nut-crusted mahi-mahi recipe
A fish dinner served with lobster sauce, roasted red potatoes and asparagus.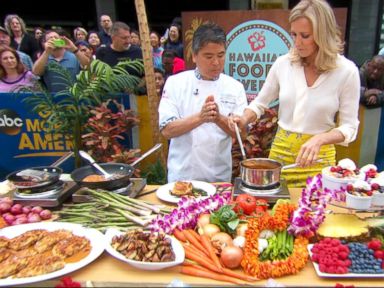 Chef Yamaguchi joins "GMA" to share a variety of Hawaiian offerings, including his famous macadamia nut-crusted mahi-mahi.
From the kitchen of Roy Yamaguchi
Roy Yamaguchi is the celebrity chef behind Roy's restaurants and cookbooks including "Roy's Feasts from Hawaii and Hawaii Cooks: Flavors from Roy's Pacific Rim Kitchen." Yamaguchi appeared on "Good Morning America" to share recipes in celebration of Hawaiian Foods Week. Try this recipe for a tasty dish in your own kitchen!
"Good Morning America" is featuring Hawaiian recipes in honor of our 2017 Summer Concert Series sponsored by King's Hawaiian.
Ingredients
Main ingredients
7 ounces mahi-mahi
3 ounces roasted red bliss potatoes
2 ounces asparagus
1.5 ounces lobster sauce
Ingredients for macadamia nut butter
2.5 pounds unsalted butter (softened)
1.25 pounds macadamia nuts (toasted)
.75 pounds panko bread crumbs
Ingredients for lobster sauce
5 lobster heads (cleaned out the gills and tamale) can interchange shrimp with fish, chicken or pork
.25 pounds bacon
1 onion
1 carrot
1/4 bunch of celery
4 cloves of garlic
2 shallots
1 sprig basil
1 bay leaf
1/2 cup tomato paste
2 tomatoes
1/4 cup basil
2 quarts lobster stock
1 cup cream (optional)
For lobster stock
20 lobster heads (cleaned of the gills and tamale) can interchange chicken stock
1 onion
1 carrot
1/4 bunch of celery
1 sprig basil
1 bay leaf
Water
Cooking Directions
Method for mahi-mahi
Salt and pepper both sides of mahi-mahi.
Spread the room-temperature macadamia nut butter on the bone side of the fish.
Place in a medium sauté pan, over medium heat, butter side down. Cook until golden brown.
Using a spatula, flip over the mahi-mahi and cook on the skin side until it's done to your liking.
Macadamia nut butter
Let butter sit out overnight or until completely softened.
Toast macadamia nuts in a 350-degree oven for seven minutes until they obtain a nice, golden brown color. Let cool.
Place the macadamia nuts in a food processor and pulse until they are a medium ground.
Place the softened butter in a Kitchen Aid mixer with the paddle attachment.
Slowly add in the ground macadamia nuts to the mixer on low.
Next, slowly add in the panko until fully incorporated.
Lobster sauce
Render the bacon, sauté the mirepoix, garlic and shallots.
Add the tomato paste and slightly caramelize.
Once the lobster heads have been roasted, add to the pot along with the heads from the stock. Deglaze with lobster stock and incorporate the basil, bay leaf and any tomato ends and pieces. Reduce by about half.
Blend all ingredients including the shells until smooth. You may need to adjust the consistency with tomato paste when blending.
Season and strain through a chinois. Make sure your chinois does not have any tears or large holes so that none of the lobster shells escape into your sauce.
Roasted red bliss potatoes
Wash potatoes and pat dry.
Quarter the potatoes, toss in olive oil, parsley, salt and pepper.
Place on a sheet tray and bake in the oven at 350 degrees for 15 to 20 minutes or golden brown.
Sauteed Asparagus
Cut 2 to 3 inches off the bottoms of the asparagus.
Saute in a medium saute pan with butter, parsley and salt and pepper until fork-tender.
Recipe courtesy Roy Yamaguchi.
Recipe Summary
Main Ingredients: mahi mahi, potatoes, asparagus, lobster sauce
Course: Dinner