How to make Chef Marc Murphy's croque madame
Watch the step-by-step video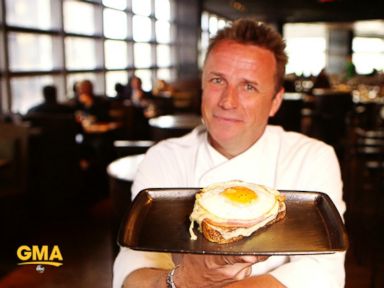 A step-by-step video guide from Chef Marc Murphy to make the famous French sandwich.
From the kitchen of Marc Murphy
"GMA" caught up with Chef Marc Murphy at his restaurant Landmarc in New York City where he shared his recipe for his all-time favorite sandwich, the croque madame. Topped with a fried egg, the famous French sandwich is tried-and-true winner.
Watch more "GMA" food videos here.
Watch the "GMA" Lunch Break live stream on ABCNews.com/live and the GMA Facebook page every Monday at 12:30 p.m. ET.
Ingredients
For the Béchamel:
1 cup whole milk
1 tablespoon (1/2 ounce) unsalted butter
1 tablespoon all-purpose flour
1/3 teaspoon grated nutmeg
Kosher salt
1/4 cup (1 ounce) grated Gruyère

For the Croque Monsieur or Madame:
4 (3/4-inch-thick) slices country bread
12 thin slices Black Forest ham or other lean ham (about 8 ounces)
2 cups (about 8 ounces) coarsely grated Gruyère
Freshly ground black pepper
For the Madame:
1 egg
1 tablespoon unsalted butter
Cooking Directions
To make the Béchamel:
In a small saucepot, heat the milk over medium heat until warm to the touch.
In a separate small saucepot, melt the butter over medium heat. Add the flour, reduce the heat to low, and cook, stirring continuously, for about 2 minutes, until the raw flour taste has been cooked out.
Add the warm milk and the nutmeg and whisk until smooth.
Season to taste with salt and bring the béchamel to a simmer, whisking continuously until thickened, about 2 minutes.
Remove from the heat and stir in the Gruyère.
To make the Croque Monsieur or Madame:
Heat the broiler on high. Set the bread on a rimmed baking sheet and place 3 slices of the ham on each slice of bread. Top with a thin layer of the Béchamel.
Divide the Gruyère evenly among the sandwiches and season with pepper.
Broil until the cheese has melted and turns golden brown, about 3 minutes.
To make a Croquet Madame:
Follow the sandwich instructions and top each with a fried egg.
To fry an egg, melt 1 tablespoon unsalted butter over medium heat until the foaming subsides. Crack an egg into the pan and cook until the white is set.
Reduce the heat to low, cover, and cook the egg until warmed through and the yolk is just very warm to the touch, about 2 minutes.
Remove from the heat and place on top of the croque monsieur.
Recipe courtesy of Marc Murphy.
Recipe Summary
Main Ingredients: whole milk, gruyere, black forest ham, bread, egg
Course: Brunch, Breakfast, Lunch