How to Make Tried-and-True Sparkly Ginger Snaps
Watch step-by-step how to make this festive holiday treat.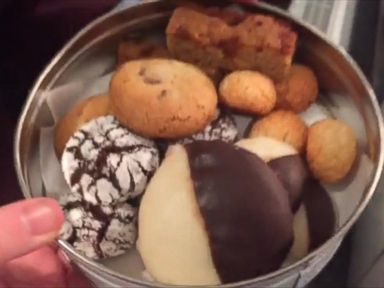 Chef Dan Kluger and Gretchen Holt-Witt bake tried-and-true sparkly ginger snaps and black-and-white cookies, live.
From the kitchen of Gretchen Holt-Witt
"GMA" is showcasing the ultimate cookie recipes from viewers and pros across the country in a special cookie countdown to Christmas. If you're looking to mix things up this holiday season, Gretchen Holt-Witt's tried-and-true sparkly ginger snaps fits the bill.
Witt's non-profit, Cookies for Kids' Cancer, hosts local bake sales to raise funds for pediatric cancer research.
Watch the step-by-step video above to learn how to make Witt's ginger snaps yourself at home and get all recipe details below. Plus, viewers have shared their family cookie traditions with "GMA," from gingerbread recipe passed down for generations to cookies made with a secret ingredient like candy bars inside.
Click here for the featured recipes.
Ingredients
FOR THE SPARKLY GINGER SUGAR
3 tablespoons granulated sugar
3/4 teaspoon ground ginger
FOR THE COOKIES
1 stick (1/4 pound) unsalted butter, at room temperature
3/4 cup plus 2 tablespoons granulated sugar
1 large egg, at room temperature
3 tablespoons dark molasses
2 cups all-purpose flour
1 tablespoon ground ginger
11/2 teaspoons baking soda
1/2 teaspoon ground cinnamon
1/4 teaspoon kosher salt
Cooking Directions
Preheat the oven to 350° F. Line a cookie sheet with parchment paper.
To make the sparkly ginger sugar:
Place the sugar and ginger on a plate and mix until combined. Set aside.
To make the cookies:
1. Place the butter and sugar in the bowl of a mixer fitted with a paddle and beat until smooth and creamy.
2. Add the egg and molasses, one at a time, beating well between additions.
3. Scrape down the sides of the bowl.
4. Place the flour, ginger, baking soda, cinnamon, and salt in a separate bowl and mix well.
5. Add to the butter mixture and beat until everything is well incorporated.
6. Scrape down the sides of the bowl and beat again.
7. Break off small pieces and roll into 1-inch balls.
8. Roll the balls in the sparkly ginger sugar and place 2 inches apart on the prepared cookie sheet.
9. Using your hand or the bottom of a water glass, press down until flattened.
10. Transfer to the oven and bake until the cookies begin to brown at the edges, 12 to 15 minutes.
11. Cool on the cookie sheet.
12. Transfer the cookies to a wire rack and repeat with the remaining dough.
Do you have an original holiday cookie recipe that your family and friends devour? Click HERE to share your recipe!
Recipe Summary
Main Ingredients: sugar, egg, butter, dark molasses
Course: Dessert