Mandarin Oriental's Roasted Honey Sage Turkey
The Perfect Thanksgiving Recipe That Won't Leave You Broke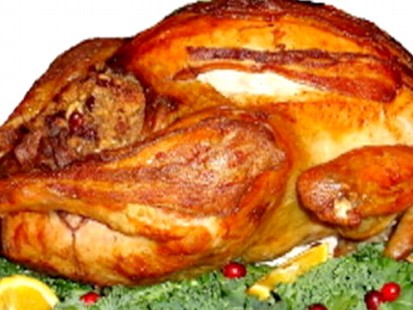 Five money saving tips from "Coupon Mom" Stephanie Nelson.
From the kitchen of Toni Robertson
|
Chef Toni Roberts of the luxe New York City hotel Mandarin Oriental has come up with the perfect wallet-friendly way to impress your guests on Thanksgiving. With tasty ingredients like sage, sweet honey and leeks you're going to be thanking everyone around you!
Ingredients
18 lbs fresh turkey
1 cup white onion, large diced
1 cup celery, large diced
1 cup leeks, chopped
1 tablespoon chopped garlic
½ cup fresh sage
½ cup chopped parsley
1 tablespoon lemon zest
1 stick soft butter
1 teaspoon paprika
2 tablespoons honey
2 tablespoons olive oil
2 cups water
salt and pepper to taste
Cooking Directions
Rinse the turkey and pat dry inside and out. Remove the neck, heart and gizzard but you can set aside for stock. Set rack at the lowest position in oven while pre heating oven to 325F. Sprinkle main turkey cavity inside and out with salt and pepper. Mix chopped garlic, sage, parsley, lemon zest and butter together. Carefully slide hand between skin and meat of the turkey filling with the lemon sage mixture. Do the same for thighs and upper drumsticks. Tie the legs loosely to hold shape and tuck wing tips under. Place turkey on rack set in large roasting pan. Pour water in the bottom of the pan adding the diced onion, celery and leek. Cover the turkey with foil . Roast the turkey for 2 hours. Then, remove the foil at the last hour - brush with the honey, olive oil and paprika mixture. Roast until golden brown. Transfer the turkey to the platter, reserved vegetable and pan juice for sauce.
To make pan gravy:
Remove the turkey from roasting pan. Save the vegetable and pan juice on the side. Set the pan with dripping over medium high heat. Add 1 cup of rich homemade chicken stock. Bring to simmer. Using the whisk to scarp up the brown bits from the bottom. In the mean time. Blend the pan juice with vegetable in the high speed blender till smooth. Add the vegetable puree back in the pan liquid. Reduce for 5 minute. Seasons with salt and pepper. Strain through the strainer till smooth.
Recipe Courtesy: Mandarin Oriental Hotel, New York.
Other Recipes That You Might Like