Home
>
GMA
>
Roy Yamaguchi's mango sweetbread pudding with candied macadamia nuts and Chantilly cream recipe
Roy Yamaguchi's mango sweetbread pudding with candied macadamia nuts and Chantilly cream recipe
A sweet dessert with candied macadamia nuts and Chantilly cream.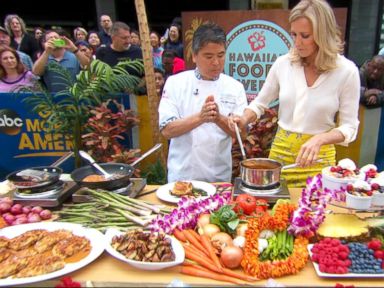 Chef Yamaguchi joins "GMA" to share a variety of Hawaiian offerings, including his famous macadamia nut-crusted mahi-mahi.
From the kitchen of Roy Yamaguchi
Roy Yamaguchi is the celebrity chef behind Roy's restaurants and cookbooks including "Roy's Feasts from Hawaii and Hawaii Cooks: Flavors from Roy's Pacific Rim Kitchen." Yamaguchi appeared on "Good Morning America" to share recipes in celebration of Hawaiian Foods Week. Try this recipe for a sweet dessert in your own kitchen!
"Good Morning America" is featuring Hawaiian recipes in honor of our 2017 Summer Concert Series sponsored by King's Hawaiian.
Ingredients
For the bread pudding
6 pieces of King's Hawaiian sweetbread rolls
2 large ripe mangoes, diced
1 quart half & half
1 cinnamon stick
1 vanilla bean, split
6 large eggs
1 cup granulated sugar
For the candied macadamia nuts
1 cup chopped macadamia nuts
1 cup sugar
1/3 cup water
For the Chantilly cream
1 cup heavy cream
1 tbsp granulated sugar
1/2 tsp vanilla extract
For garnish
1/2 cup raspberries
1/2 cup blueberries
4 strawberries, hulled and quartered
1/4 cup chopped pineapple
1 tbsp sugar
Cooking Directions
Method for bread pudding
Cut the sweetbread into bite size cubes and toast in the oven on a sheet tray at 350 degrees for 10 minutes. Set aside to cool.
In a bowl, whisk together the eggs and sugar, set aside. In a saucepan, add cinnamon stick, vanilla bean, and the half & half; scald over high heat. Next, temper your egg and sugar mixture by adding 1/4 cup of the hot half & half into it, and whisk until combined. Pour the tempered eggs into the half & half and whisk well. Strain through a chinois.
Toss the chopped mango and toasted sweetbread together in a bowl (you want to get mango in every bite), then spoon into lightly buttered 6-ounce ramekins. Pour the cream mixture over to cover and let them sit for five minutes to let the cream absorb into the sweetbread.
Prepare a water bath for your puddings. Place the ramekins into a baking dish that is taller than they are. Fill with hot water to reach halfway up the sides of the ramekins.
Cover the pan with foil and bake at 350 degrees for 20 minutes. To test for doneness, insert a toothpick and make sure it comes out clean.
For the candied macadamia nuts
Stir together the sugar and water in a small saucepan until the sugar is dissolved. Add the macadamia nuts and bring to a boil. Turn down the heat to medium and let simmer for five minutes.
Strain the liquid from the macadamia nuts. Spread in an even layer onto a parchment lined sheet tray, and sprinkle with a pinch of salt.
Bake at 350 degrees in five-minute intervals. Be sure to stir the nuts on the tray to ensure even caramelization of the sugar. Continue until the nuts are golden brown.
For the Chantilly cream
In an electric mixer fitted with the whisk attachment add heavy cream, sugar and vanilla extract. Beat until soft peaks form.
Cover and keep refrigerated until ready to use.
For garnish
Toss the fruit and sugar together.
To serve, spoon the fruit on top of the pudding, then add a big dollop of the Chantilly cream. Sprinkle with the candied macadamia nuts and enjoy!
Note: The bread pudding can be sautéed in a little vegetable out before serving to give a different texture.
Recipe courtesy Roy Yamaguchi.
Recipe Summary
Main Ingredients: macadamia nuts, macadamia nuts, cream, sweetbread rolls, sugar, mangoes, water, vanilla
Course: Dessert