Marc Forgione's Bacon Apple Dill (BAD) Sandwich
A Sandwich for Giants Fans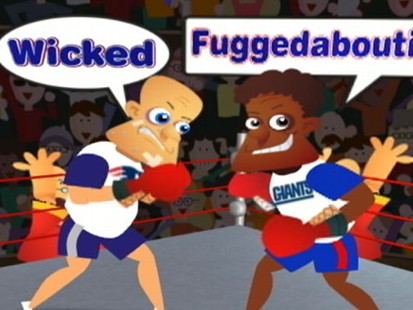 Chefs Patrick Connolly, Marc Forgione battle for 2012's top Super Bowl sandwich.
From the kitchen of Marc Forgione
Are you a Giants fan? This recipe was created by chef Marc Forgione for our Super Bowl chef showdown!
Ingredients
For the pork belly:
1 8-ounce slab fresh pork belly
2 cups pork slap lager
1 cup unsalted butter
6 sprigs fresh thyme
1 bay leaf
2 think cut slices applewood smoked bacon
For the pickled apples:
1 honeycrisp apple
1 jalapeno
11/2c apple cider vinegar
1 cup water
4 tablespoons salt
1 teaspoon sugar
3 fresh bay leaves
2 tablespoons mustard seeds
2 tablespoons chopped fresh dill
For the romesco:
1 can piquillo peppers
1/2c toasted almonds
1c extra virgin olive oil
1/2c lemon juice to taste sherry vinegar salt
Cooking Directions
For the pork belly:
Preheat the oven to 300 degrees F. Put everything into a heatproof casserole dish. Cover with foil and bake for 3 hours until fork tender. Let cool in liquid overnight.
Remove from liquid and cut as thin as you can with a knife about 1/4in. Bring liquid to a boil and add some chopped parsley and chili flakes. Reheat pork in the liquid. Add extra au jus served on plate with sandwich.
For the Pickled Apples:
Slice apples in half and then into thin slices. Slice jalapeno. Combine liquids, spices and bring to a boil. Pour over apple and pepper and let sit overnight in a non reactive container.
For the romesco:
Combine all in a blender until smooth and well balanced with the vinegar. Add some water if to thick.
To Finish:
Spread the romesco all over ciabatta bread. Put some pork belly on the bottom half, top with apples and jalapeno. Then layer crispy bacon, followed greens. Close the sandwich and serve with some of the pork belly liquid on the side to dip the sandwich in between bites.
This recipe was styled by chef Karen Pickus for Good Morning America.
Recipe courtesy Marc Forgione.
The Kick Hunger Challenge benefits food banks in all NFL cities. Make a donation on behalf of your favorite NFL team at www.KickHungerChallenge.com.
Recipe Summary
Main Ingredients: bacon, apples, apple cider vinegar, water, salt
Course: Party Platter
More Info: Kid Friendly