Marc Murphy's Ditch Plains Ditch Dogs
Marc Murphy's World Famous Ditch Plains Ditch Dogs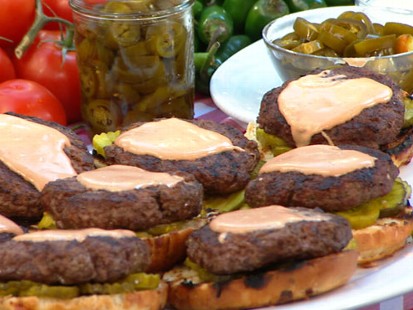 Chef, owner of Landmark and Ditch Plains restaurants grills in Times Square.
From the kitchen of Marc Murphy
Hot dogs served with just ketchup and relish? Not in Marc Murphy's kitchen. Jazz up your favorite ballpark treat with Murphy's recipe for his world famous "Ditch Plains Ditch Dogs."
Ingredients
6 Sabrett hot dogs
6 Martin's brand potato hot dog rolls
1/4 cup heavy cream
1 tbs butter
1/3 cup all purpose flour
1/2 quart milk
1/2 quart heavy cream
1/2 lb white american cheese (diced, at room temperature)
1/2 lb gruyere (grated, at room temperature)
1/3 cup parmesan (grated, at room temperature)
1 lb elbow pasta cooked al dente in salted water, drained well & cooled
Cooking Directions
Prepare Bechamel
In a medium sauce pan, heat the milk and the heavy cream. In another pan, melt the butter over medium heat. Add the flour to the butter and stir until incorporated. Cook for about 5 to 6 minutes, making sure that it doesn't brown. Add the warm milk and the heavy cream and whisk until incorporated. Bring to a simmer and cook for about 15 minutes. Add the cheeses and whisk while the bechamel is still on the stove. Do not boil after you add the cheese. Cook until the cheeses are melted, then remove from heat. Puree the cheese mixture using a large stick blender until smooth. Cool to room temperature and mix with the pasta.
Assemble Ditch Dogs
Grill the hot dogs for 5 to 7 minutes. Heat the mac-and-cheese in a sauce pan with the ¼ cup heavy cream, and season to taste. Place the hot dogs on the buns and top each with a serving of the mac-and-cheese.
This recipe was styled by chef Karen Pickus for Good Morning America.
Recipe courtesy Marc Murphy.
Recipe Summary
Main Ingredients: hot dogs, cheese, macaroni, cream
Course: Dinner