Marcus Samuelsson's Strawberry-Basil Lemonade
Marcus Samuelsson's Strawberry-Basil Lemonade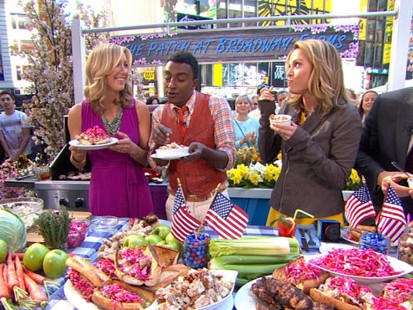 Marcus Samuelsson serves up a refreshing feast to kick off the summer months.
From the kitchen of Marcus Samuelsson
|
Cool down with a glass of chef Marcus Samuelsson's strawberry-basil lemonade with gin. This alcoholic refreshment can be made with or without gin depending on the occasion and your guests.
Ingredients
3 cups water
4 cups chopped fresh strawberry
3/4 cups sugar
2 3 inch strips lemon zest
3 sprigs fresh basil
1 cup fresh lemon juice
2 cups sparkling water
6 ounces gin
Cooking Directions
In a saucepan, stir together the water, strawberry, sugar, lemon zest and basil. Bring the mixture to a boil, reduce heat, cover and simmer for 20 minutes. Let the strawberry mixture cool, then strain it through a wire-mesh strainer set over a large pitcher. Press on the solids to extract as much liquid as possible, and then discard the solids. Stir in the lemon juice, soda, and gin. Serve over ice, garnished with a sprig of basil.
Other Recipes That You Might Like