Marcus Samuelsson's Charred Corn Salad
Basil and Butter Give Summer Corn a Boost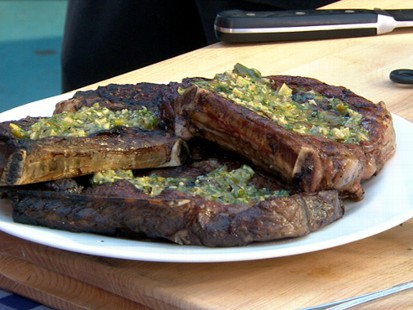 The Red Rooster Harlem chef and author of "Yes, Chef" grills up something special.
From the kitchen of Marcus Samuelsson
Summer corn gets a boost of flavor with herbs and spices. Sherry vinegar adds a tangy twist. For more recipes from Marcus Samuelsson check out FoodRepublic.com
Ingredients
4 ears corn, cut off the cob
4 teaspoons unsalted butter, melted
Salt and freshly ground black pepper
½ red onion, sliced
2 tablespoons diced roasted red bell pepper (store-bought is fine)
1 tablespoon slivered green olives
2 scallions, white and tender green parts, thinly sliced
1 tablespoon chopped fresh basil
1 tablespoon sherry vinegary
2 tablespoons olive oil
Cooking Directions
Heat large cast iron skillet on high heat till smoking hot. Add corn to dry skillet
Roast and char kernels till they begin to pop. Add in butter and red onion and mix cook for about 3 minutes stirring. Add remaining ingredients. Season. Serve warm or cold.
This recipe was styled by chef Karen Pickus for Good Morning America.
Recipe courtesy Marcus Samuelsson.
Recipe Summary
Main Ingredients: corn, basil, butter, salt, onion
Course: Salad
More Info: Kid Friendly