Home
>
GMA
>
Recipes Home
>
Marcus Samuelsson's Corn Bread with Honey Butter Glaze and Tomato Jam
Marcus Samuelsson's Corn Bread with Honey Butter Glaze and Tomato Jam
A Delicious Party Snack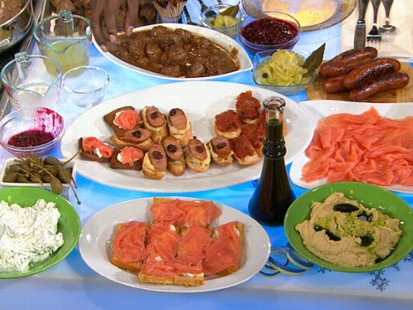 The top master chef shares some simple recipes for your big party.
From the kitchen of Marcus Samuelsson
|
Feel free to mix and match these toppings, meats, and spreads for an easy holiday cocktail party.
Ingredients
4 tablespoons butter, at room temperature, cut into 6 pieces, plus for coating the pans
3/4 cup sugar
1/4 cups brown sugar, packed
2 eggs
1 cup all-purpose flour, scooped and leveled, plus for coating the pans
3/4 cup cornmeal
1/2 cup polenta
1 tablespoon, plus 1 teaspoon baking powder
1 teaspoon salt
1 1/2 teaspoons Aleppo (can be substituted with ancho pepper or 1 tablespoon sweet paprika mixed with 1/2 teaspoon ground cayenne)
1 cup sour cream
1 cup buttermilk
For the honey glaze:
9 1/2 tablespoons butter
9 1/2 tablespoons honey
1 sprig sage
For the tomato jam:
1 tablespoon currants
2 1/2 tablespoons apple cider vinegar
2 1/2 tablespoons red wine vinegar
4 garlic cloves, sliced
4 shallots, sliced
2-inches ginger, sliced
1 tablespoon olive oil
2 cups canned tomatoes
1 pound fresh tomatoes, chopped
6 tablespoons palm sugar (can be found in Latin specialty stores or substituted with light brown sugar)
1 teaspoon minced jalapeno
2 curry leaves
Cooking Directions
Preheat oven to 350 degrees and position a rack in the middle of the oven.
Butter and lightly dust with flour two 9-by-5-inch loaf baking pans and set aside.
Make the dry mix: Combine flour, cornmeal, polenta, baking powder, salt, and Aleppo. Stir to combine with a whisk and set aside.
Make the wet mix: Combine sour cream and buttermilk. Stir to combine with a whisk and set aside.
Make the butter mix: In a large bowl, cream butter and sugars together using a handheld mixer or an electric stand mixer fitted with a paddle attachment. Add eggs one at a time, scraping down the bowl between additions.
Add about 1/3 of the dry ingredients and mix on low speed until combined. Scrape down the sides of the bowl, and then add ½ of the wet mix. Mix on low speed until combined. Continue alternating the additions of the dry mix and wet mix, ending with the dry mix, scraping down the bowl between additions.
Divide the batter between the three pans, filling until about 1 inch from the top. Rap the pan lightly on the countertop to release any air bubbles.
Bake at 350 degrees F for 40 to 50 minutes or until golden brown, and a skewer or knife inserted into the center comes out clean. (Please note that baking time varies between ovens.)
Cool the loaves in the pan for 10 minutes on a wire rack. Then run a silicone spatula or knife around the edges and invert onto a plate. Re-invert the cornbread onto a cooling rack and let cool completely before slicing.
For the glaze:
Bring all three ingredients to a boil until mixture is barely reduced.
Remove sage sprig and let cool to room temperature.
Brush top of corn bread loaf, and sprinkle liberally with sea salt flakes.
For the tomato jam:
Pickle the currants with the vinegars for at least 8 hours.
Sauté the garlic, shallots and ginger in oil.
Add canned tomatoes, fresh tomatoes, and palm sugar.
Add jalapeno, curry leaves and pickled currants.
Cook uncovered over medium heat, stirring occasionally at first, then constantly towards the end of the cooking time, until mixture is reduced to about one third.
This recipe was styled by chef Karen Pickus for Good Morning America.
Recipe courtesy Marcus Samuelsson.
Other Recipes That You Might Like