Marcus Samuelsson's Flank Steak With Pesto
An Everyday Steak With a Twist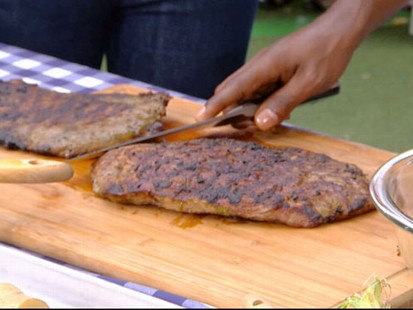 "Top Chef" master shows us some good eats on the grill.
From the kitchen of Marcus Samuelsson
|
Marcus Samuelsson is known for turning fresh ingredients into simply delicious dishes. This pesto topped flank steak is no different. Give it a try for dinner tonight.
Ingredients
For the pesto
1 tablespoon chopped basil
2 tablespoon chopped mint
2 garlic cloves
1 jalapeno pepper
1 tablespoon grated parmesan
1/4 cup olive oil
Juice from 1/2 lemon
1 tablespoon toasted almonds
For the steak
2 1/4-pound flank steak
Half Pesto Recipe
Cooking Directions
For the pesto:
Preheat grill. Place garlic cloves and jalapenos on grill, grilling until garlic is golden brown and peppers begin to blister. Set aside to cool.
Combine all ingredients in a blender and blend until smooth.
For the steak:
Brush the steak in pesto and let marinate for 2 hours.
Preheat grill.
Grill steak for 4 minutes on each side.
Let steak rest for 4 minutes then slice. Serve extra pesto on the side.
This recipe was styled by chef Karen Pickus for Good Morning America.
Recipe courtesy Marcus Samuelsson.
Other Recipes That You Might Like