Marcus Samuelsson's Grilled Rib Eye on the Bone
Not Your Average Steak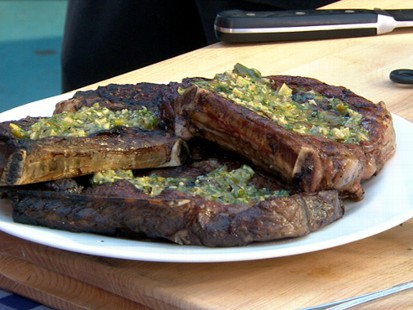 The Red Rooster Harlem chef and author of "Yes, Chef" grills up something special.
From the kitchen of Marcus Samuelsson
|
Grilled rib eye steaks are flavored with herbs, mustard and lemon for a bright, punchy flavor. For more recipes from Marcus Samuelsson check out FoodRepublic.com
Ingredients
1 tablespoon chopped parsley
1 teaspoon chopped tarragon
4 rib eye steaks, 1-inch thick, bone-on
1 jalapeño pepper
4 garlic cloves
2 scallions
4 tablespoons olive oil
1 teaspoon Dijon mustard
4 drops Worcestershire sauce
Juice from 1 lemon
Salt
Freshly ground black pepper
Cooking Directions
Preheat the grill to medium heat.
Chop the parsley and tarragon; set aside.
To cook:
Brush the steaks, jalapeño, garlic cloves, and scallions with 1 tablespoon of the olive oil. Place the steaks and vegetables on the grill and cook for 3 minutes per side for the vegetables and 6 minutes per side for the rib eyes for medium-rare. Once the steaks are cooked, let them rest for 10 minutes off of the grill.
While the steaks rest, remove and discard the jalapeño's skin, reserve everything else. Chop the grilled vegetables.
In a medium bowl, mix the chopped grilled vegetables with the mustard, Worcestershire sauce, remaining olive oil, lemon juice, chopped parsley, tarragon, salt and freshly ground black paper to taste.
To serve:
Put the steaks on a serving platter and dress them with the grilled green vinaigrette.
Recipe courtesy Marcus Samuelsson.
This recipe was styled by chef Karen Pickus for Good Morning America.
Other Recipes That You Might Like